NOAAS Discoverer (R 102)
From SpottingWorld, the Hub for the SpottingWorld network...

USC&GS Discoverer, the future NOAAS Discoverer (R 102), in Alaskan waters sometime between 1967 and 1970.
Career (United States)
60px
Name:
USC&GS Discoverer (1966-1970)
NOAAS Discoverer (from 1970)
Namesake:
A discoverer, a person who engages in discovery, the act of detecting and learning something
Builder:
Aerojet General Shipyards, Jacksonville, Florida
Laid down:
10 September 1963
Launched:
29 October 1964
Completed:
1966
In service:
29 April 1967
Out of service:
16 August 1996
Homeport:
Miami, Florida; later Seattle, Washington
Status:
Inactive, in reserve
Notes:
Served in U.S. Coast and Geodetic Survey as USC&GS Discoverer 1967-1970; served in National Oceanic and Atmospheric Administration as NOAAS Discoverer (R 102) 1970-1996
General characteristics
Class and type:
Oceanographer-class oceanographic research ship
Tonnage:
3,701 gross register tons
1,095 net register tons
Displacement:
4,033 tons (full load)
Length:
92.4 m (303 ft)
Beam:
15.8 ft (4.8 m)
Draft:
6.0 m (19.7 ft)
Installed power:
5,000 shaft horsepower (6.7 megawatts)
Propulsion:
Diesel-electric: Two Westinghouse 1150 diesel generator sets, two Westinghouse electric motors, two screws; 400-horsepower (0.54-megawatt) bow thruster; 937 tons fuel
Speed:
15.8 knots (sustained)
Range:
12,250 nautical miles at 15 knots
Endurance:
34 days
Complement:
79 (13 NOAA Corps officers, six licensed civilian officers, 60 crewmen) plus up to 24 scientists
Sensors and
processing systems:
One weather radar, two navigational radars; additional sensors installed before 1986 reactivation (see text)
Notes:
1,200 kilowatts electrical power
NOAAS Discoverer (R 102), originally USC&GS Discoverer, was an American Oceanographer-class oceanographic research vessel in service in the United States Coast and Geodetic Survey from 1966 to 1970 and in the National Oceanic and Atmospheric Administration (NOAA) from 1970 to 1996.
Construction
Discoverer was laid down on 10 September 1963 by Aerojet General Shipyards at Jacksonville, Florida. A very serious fire in the area of her meat preparation room and freezers brought her construction to a stop, but it resumed and she was launched on 29 October 1964. Soon after launching, she was moved to the Maryland Shipbuilding and Drydock Company at Baltimore, Maryland, where she received a single computer system, the first system of its kind, which revolutionizing environmental data collection and processing; via the computer, Discoverer's propulsion and other machinery was automated through a centralized engine room control (CERC) system, which measured and recorded the ship's course and speed, magnetic field intensity, gravity, surface current, and temperature. She had chemistry, wet and dry oceanographic, meteorological, gravimetric, and photographic laboratories. She also had several precision oceanographic winches and an underwater observation chamber.
After successful sea trials -- during which she outperformed her sister ship USC&GS Oceanographer, making 17 knots ahead, one knot more than she was designed for, and 13 knots astern -- she was delivered to the United States Government on 15 December 1966. At 303 feet (92.4 meters) in length, she and her Oceanographer -- which entered service nine months before Discoverer -- were the largest vessels constructed for research purposes to date.
Operational career
USC&GS Discoverer entered service with the U.S. Coast and Geodetic Survey on 29 April 1967, the second Coast and Geodetic Survey ship of the name, with Captain William F. Deane, USC&GS, in command. For 30 years, she operated in the Atlantic and Pacific Oceans and from the Arctic to the Antarctic ice shelf. By conservative estimates, she steamed more than 1 million nautical miles (1,852,000 kilometers) during her career, spending between 240 and 270 days of each year at sea.
Home-ported in Miami, Florida, Discoverer's first assignment was to represent the U.S. Government at the 1967 International and Universal Exposition, or Expo 67, in Montreal, Quebec, Canada; She was on display there from 2 July 1967 to 9 July 1967
Following Expo 67, Discoverer embarked on an intensive study of the Gregg Seamount in the North Atlantic Ocean. The research was the first of its kind to be conducted on a seamount. Discoverer's scientific expedition moored and recovered complex oceanographic instruments during the research. Despite encountering numerous malfunctions in the equipment, Discoverer's personnel persevered.
Later in 1967, after a minor overhaul at Jacksonville, Florida, Discoverer operated on research expeditions in the Gulf of Maine and over the Atlantic Ocean's Blake Plateau, investigating the status of manganese nodules on the ocean floor. In January 1968 she embarked on a three-month. 20,000-nautical mile expedition to gather information from the depths of the South Atlantic Ocean. She delivered personnel and equipment to the west coast of Africa, then back across the Atlantic to Cape Hatteras, North Carolina. Under the direction of Dr. Robert S. Dietz, she conducted operations in which data was used in the investigation of geological history and theories of continental drift.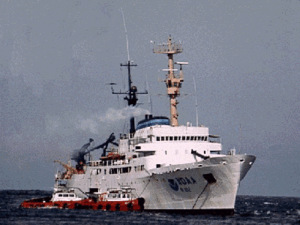 When the Coast and Geodetic Survey and other United States Government agencies combined to form NOAA in 1970, Discoverer became part of the NOAA fleet and, as NOAAS Discoverer (R 102), the first NOAA ship to bear the name. Her home port later was shifted to Seattle, Washington. In 1985, she received a multi-beam bathymetric mapping sonar, the Inmarsat satellite commnunications system, and a Global Position Indicator.
During her years of service, Discoverer's assigned projects varied from cruise to cruise, and it also was common for several different projects to be carried out aboard her simultaneously. The types of studies carried out were varied and included biological, chemical, geological and physical oceanography, meteorological, and seismic research. Discoverer's major projects included the Aerosol Characterization Experiment (ACE), the Radiatively Important Trace Species (RITS), the World Ocean Circulation Experiment (WOCE), the Combined Sensor Project (CSP), the Global Ocean-Atmosphere-Land System (GOALS) project, and NOAA's Vents project (involving the study of underwater volcanic and venting activity within 100 nautical miles (185 kilometers) of the coast of the state of Washington along the southern Juan de Fuca Ridge the Blanco Fracture Zone, and a marginal subduction zone). Ancillary projects, carried out in addition to the main objectives of each cruise, included the Automated Shipboard Aerological Program (ASAP), the Cadet Training Program (for students from the California Maritime Academy, the United States Military Academy, and the United States Naval Academy), marine mammal observations (she averaged 23 sightings of marine mammals per year), use of her Shipboard Environmental Data Acquisition System (SEAS) (averaging 1,700 weather reports per year, she was among the top ten reporting ships in the program in each year from 1989 through 1996 and was the top reporter in 1992, 1993, and 1994), and the Teacher at Sea Program (in which teachers came aboard to observe operations in the Vents program).
During 1987, the United States Navy used Discoverer as a replacement for the Military Sealift Command oceanographic survey ship USNS Bowditch (T-AGS-21), installing Bowditch's narrow-beam mapping sonars, doppler sonar, and navigational equipment aboard Discoverer.
During her final field season in 1996, Discoverer provided the at-sea platform for two of the largest oceanographic experiments ever conducted -- the first Aerosol Characterization Experiment and the final Pacific cruise for the World Ocean Circulation Experiment. These expeditions sought to determine the effects of atmospheric pollution on global climate, and to understand the physics of climate change on Earth. Results from these cruises were used to improve global climate, ocean circulation, and greenhouse gas models.
Discoverer was decommissioned at Seattle, Washingtion, on 16 August 1996. She remains inactive, and is in reserve in the NOAA Pacific Fleet at Seattle.
Commemoration
Discoverer Seamount, in the South Pacific Ocean at 1 degree 51 minutes South Latitude, 140 degrees West Longitude, is named for Discoverer.
See also
References
Prézelin, Bernard, and A. D. Baker III, eds. The Naval Institute Guide to Combat Fleets of the World 1990/1991: Their Ships, Aircraft, and Armament. Annapolis, Maryland: United States Naval Institute, 1990. ISBN 0 87021 250 8.