NOAAS Oceanographer (R 101)
From SpottingWorld, the Hub for the SpottingWorld network...

NOAA Ship Oceanographer near Seattle, Washington
Career (United States)
60px
Name:
NOAAS Oceanographer
Namesake:
Oceanographer, a scientist who studies the ocean
Builder:
Aerojet General Shipyards, Jacksonville, Florida
Laid down:
1964
Launched:
18 April 1964
Completed:
1966
In service:
13 July 1966
Out of service:
July 1981
In service:
8 April 1986
Out of service:
1989
In service:
?
Out of service:
1996
Homeport:
Seattle, Washington
Fate:
Sold 1996; served as breakwater M/V Protector 1997-2005; sold for conversion to cruise ship Sahara 2005
General characteristics
Class and type:
Oceanographer-class oceanographic research ship
Tonnage:
3,701 gross register tons
1,095 net register tons
Displacement:
4,033 tons (full load)
Length:
92.4 m (303 ft)
Beam:
15.8 ft (4.8 m)
Draft:
6.0 m (19.7 ft)
Installed power:
5,000 shaft horsepower (6.7 megawatts)
Propulsion:
Diesel-electric: Two Westinghouse 1150 diesel generator sets, two Westinghouse electric motors, two screws; 400-horsepower (0.54-megawatt) bow thruster; 937 tons fuel
Speed:
15.8 knots (sustained)
Range:
12,250 nautical miles at 15 knots
Endurance:
34 days
Complement:
79 (13 NOAA Corps officers, six licensed civilian officers, 60 crewmen) plus up to 24 scientists
Sensors and
processing systems:
One weather radar, two navigational radars; additional sensors installed before 1986 reactivation (see text)
Notes:
1,200 kilowatts electrical power
NOAAS Oceanographer (R 101), originally USC&GS Oceanographer, was an American Oceanographer-class oceanographic research vessel in service in the United States Coast and Geodetic Survey from 1966 to 1970 and in the National Oceanic and Atmospheric Administration (NOAA) from 1970 to 1996. She served as flagship of both the Coast and Geodetic Survey and NOAA fleets.
Construction
Oceanographer was laid down in 1964 by Aerojet General Shipyards at Jacksonville, Florida, and launched on 18 April 1964. She was completed in 1966, at 303 feet (92 meters) in length the largest vessel constructed for research purposes to date. Her stark white paint, large radome aft of the funnels and heavy crane on the aft deck gave her a distinctive appearance. She had chemistry, wet and dry oceanographic, meteorological, gravimetric, and photographic laboratories. She also had several precision oceanographic winches.
Operational career
USC&GS Oceanographer entered service with the U.S. Coast and Geodetic Survey on 13 July 1966, the second Coast and Geodetic Survey ship of the name, serving as flagship of the Survey's fleet. When the Coast and Geodetic Survey and other United States Government agencies combined to form NOAA in 1970, she became flagship of the NOAA fleet and, as NOAAS Oceanographer, the first NOAA ship to bear the name.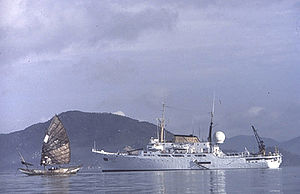 During her 30 years of service, Oceanographer sailed over 2 million nautical miles (3,704,000 kilometers) in every major ocean. In 1967 she transited from the United States East Coast to the United States West Coast via the North Atlantic Ocean, Mediterranean Sea, Red Sea, Indian Ocean, and Pacific making many good-will stops along the way. In 1969 she completed the circumnavigation of the globe she began in 1967 voyage when she returned to the U.S. East Coast.
Other highlights of Oceanographer's career included participation in the first large-scale, coordinated international sea-air interaction survey, known as the BOMEX Study, in 1969, and environmental base-line studies on deep-ocean mining (DOMES). In 1980, Oceanographer became the first U.S. Government vessel allowed into a port of the People's Republic of China.[1]
Oceanographer was placed in reserve in July 1981. She underwent a major refit in which she received an Alden weatherfax, a Sperry Mark 37 gyro, a Raytheon X-band Pathfinder radar, Inmarsat, an MX1102 Global Positioning System, a new salinometer, a Shipboard Environmental Acquisition System with expendable bathythermograph gear, a new meterological station, and a Doppler current profiling system, and returned to service with this new equipment on 8 April 1986. Placed in reserve in 1989, she later returned to service again.
Final disposition
Oceanographer and NOAA Ships Discoverer (R 102) and Malcolm Baldridge (R 103), ex-Researcher, were replaced by NOAAS Ronald H. Brown under the NOAA Fleet Modernization Program in the 1990s.[2] After being decommissioned in 1996, Oceanographer was sold to the Kirkland Yacht Club Marina of Kirkland Washington, to act as a breakwater and was renamed M/V Protector.[3] Protector was tied up at the marina from 1997 to 2005.
In August 2005, Protector was renamed m/v Sahara and towed away to a Seattle, Washington, shipyard to be refitted as a luxury cruise ship.[4]
See also
References
Prézelin, Bernard, and A. D. Baker III, eds. The Naval Institute Guide to Combat Fleets of the World 1990/1991: Their Ships, Aircraft, and Armament. Annapolis, Maryland: United States Naval Institute, 1990. ISBN 0 87021 250 8.