NOAAS Rude (S 590)
From SpottingWorld, the Hub for the SpottingWorld network...
NOAA Ship Rude
NOAA Ship Rude (S 590)
Career (United States)
60px
Name:
NOAAS Rude (S 590)
Namesake:
Captain Gilbert T. Rude (1881-1962), a U.S. Coast and Geodetic Survey officer
Builder:
Jackobson Shipyard, Oyster Bay, New York
Launched:
August 1966
Completed:
December 1966
Commissioned:
March 1967
Decommissioned:
25 March 2008
Honors and
awards:
Department of Commerce Silver Medal 1978
Status:
Inactive in NOAA Atlantic Fleet
Notes:
Served in U.S. Coast and Geodetic Survey as USC&GS Rude 1967-1970
Served in National Oceanic and Atmospheric Administration as NOAAS Rude from 1970
General characteristics
Type:
Rude-class hydrographic survey ship
Tonnage:
150 gross register tons (domestic tonnage)
Displacement:
220 tons (ITC tons)
Length:
90 ft (27 m)
Beam:
22 ft (6.7 m) (moulded)
Draft:
7.2 ft (2.2 m)
Installed power:
850 shaft horsepower (1.1 megawatts)
Propulsion:
Two Cummins 425-horsepower (0.57-megawatt) geared diesel engines, 2 shafts, 3,900 gallons fuel
Speed:
10 knots (cruising)
Range:
1,000 nautical miles (1,852 kilometers)
Endurance:
5 days
Boats and landing
craft carried:
One launch
Complement:
11 (4 NOAA Corps officers, 1 licensed engineer, and 6 other crew members)
Notes:
120 kilowatts electrical power
NOAAS Rude (S 590) is an American Rude-class hydrographic survey ship. She served in the United States Coast and Geodetic Survey from 1967 to 1970 and ahs served in the National Oceanic and Atmospheric Administration (NOAA) since 1970.
She was built at the Jackobson Shipyard in Oyster Bay, New York. She was launched in August 1966, commissioned in March 1967, and decommissioned on March 25, 2008.[1]
The RUDE (pronounced "Rudy") is named for Gilbert T. Rude, former Chief of the Division of Coastal Surveys, U.S. Coast and Geodetic Survey. The hull of the ship is 90 feet (27.4 m) long, the smallest in the NOAA fleet. The ship has a total of 11 bunk spaces. The ship's mess room can seat 7. She carries a complement of 4 NOAA Corps officers, 7 crew, including 1 licensed engineer.
The deck equipment features one winch and one telescoping boom crane. This equipment gives the RUDE a lifting capacity of up to 7,500 pounds (3,400 kg) as well 500 feet (150 m) of cable that can pull up to 250 pounds (113 kg).
For her primary mission of inshore hydrographic surveys, the ship is equipped with a differential global positioning system (DGPS), a multibeam sonar system, and side-scan sonar (SSS). She is also equipped for diving operations to allow human investigation of submerged obstacles. A 19-foot (5.7 m) fiberglass launch is available for utility or rescue operations.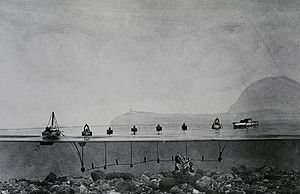 Rude was originally used as a wire drag vessel with a 'sister ship' of identical design named HECK. They worked together under a single command conducting wire drag surveys clearing large swaths between them with a submerged wire prior to electronic technologies that allow a single vessel to do the same work using side-scan or multibeam sonar. In 1989, they began working independently thanks to the improved technology. The HECK was deactivated in 1995.
Search and rescue
In 1978, Rude and Heck came to the assistance of the burning research vessel Midnight Sun, rescuing Midnight Sun's crew and scientists and saving the vessel from total loss. Rude's crew took aboard all 20 of Midnight Sun's crew members and scientists, who were afloat in life rafts near Midnight Sun, administered first aid to them, and transported them to shore. Heck's crew, meanwhile, fought the fire aboard Midnight Sun for 20 consecutive hours and saved Midnight Sun from sinking. For their efforts in saving Midnight Sun and her crew, the crews of Rude and Heck received the 1978 Department of Commerce Silver Medal.
Rude is sometimes called upon to assist the U.S. Coast Guard and Navy in search, rescue, and recovery operations. The RUDE located the TWA Flight 800 wreckage off of Moriches, New York in 1996, and more recently, located John F. Kennedy Jr.'s plane wreckage off Martha's Vineyard, Massachusetts.
See also
References
External links