RMS Empress of Canada (1928)
From SpottingWorld, the Hub for the SpottingWorld network...

Empress of Canada
Career
Name:
1928-1947: SS Duchess of Richmond
1947-1953: RMS Empress of Canada
Namesake:
Duchess of Richmond
Operator:
Canadian Pacific Steamships Ltd
Route:
Canada to UK
Builder:
John Brown & Company, Clydebank
Yard number:
523[1]
Launched:
18 June 1928
Maiden voyage:
15 March 1929
Refit:
1946/1947
Fate:
Caught fire and capsized on 25 January 1953
Scrapped in La Spezia in 1954
General characteristics
Type:
Passenger liner
Troopship during Second World War
Tonnage:
20,022
Length:
601 ft (183 m)
Beam:
75 ft 3 in (22.94 m)
Propulsion:

Steam turbines
Twin propellers[1]

Speed:
18 knots
Capacity:
As built 580 cabin, 480 tourist and 510 3rd class passengers
SS Duchess of Richmond was an ocean liner built in 1928 for Canadian Pacific Steamships by John Brown & Company in Clydebank, Scotland. In 1947 she was renamed SS Empress of Canada. The ship was distinguished by the Royal Mail Ship (RMS) prefix in front of her name while in commercial service with Canadian Pacific.
Duchess
The Duchess of Richmond was one of the several "sturdy Canadian Pacific liners which were known as "Drunken Duchesses" for their lively performance in heavy seas."[2] She was built as a sister ship to SS Duchess of York, SS Duchess of Bedford and SS Duchess of Atholl.
In March 1929 the 20,022-ton ocean liner began transatlantic summer service from Montreal Canada to Liverpool in the United Kingdom with winter service out of the port of Saint John, New Brunswick.
Troopship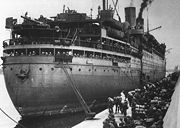 During World War II, the Duchess was requisitioned as a troopship. Early in the war, she transported men to the fighting in North Africa, stopping briefly in Algiers to disembark troops on November 14, 1942.[3]
Empress
In 1947 she was refitted as a luxury liner with the new name Empress of Canada and returned to service on her original Canada to England route.
On 25 January 1953 the Empress of Canada caught fire and heeled over against the dock wall at Gladstone Dock, Liverpool. Re-floated, the following spring she was taken to La Spezia, Italy where she was scrapped.
Notes
References
External links