USNS Shughart (T-AKR-295)
From SpottingWorld, the Hub for the SpottingWorld network...

The USNS Shughart
Career (US)
Laid down:
1980
Acquired:
May 7, 1996
Commissioned:
8 February 1997
In service:
1996
Homeport:
Baltimore
Fate:
In service
General characteristics
Displacement:
54,450 tons full load
Length:
908.8 feet (277 m)
Beam:
105.6 feet (32.2 m)
Draught:
34.8 feet (10.6 m)
Propulsion:
1 Burmeister & Wain 12L90 GFCA diesel; 1 shaft; bow and stern thrusters
Speed:
24 knots (44 km/h)
Range:
12,200 nautical miles (22,590 km) at 24 knots (44 km/h)
Capacity:
312,461 sq ft (29,029 m2).
Complement:
26 civilian crew
Armament:
none
Aircraft carried:
One helicopter landing pad
USNS Shughart (T-AKR-295) is the lead ship of her class of cargo ships. A 'roll-on roll-off' non-combat United States Naval LSMR, she holds the designation of a Large, Medium-speed, roll-on/roll-off ship.
Shughart was originally owned by a commercial shipping company before purchase by the U.S. Navy. Previously named Laura Maersk, she was rechristened in honor of Medal of Honor recipient US Army Sergeant First Class Randall D. Shughart.
Shughart, along with others in her class, is capable of carrying 58 tanks, 48 other track vehicles, plus more than 900 trucks and other wheeled vehicles. To manipulate the immense cargo capacity, Shughart utilises two 110-ton cranes, a starboard ramp, and a stern ramp.[1]
Shughart was first constructed in 1980 in Denmark by Lindovaerftet, and christened the Laura Maersk. She was lengthened in 1987 and again in the early 1990s by Hyundai.[2]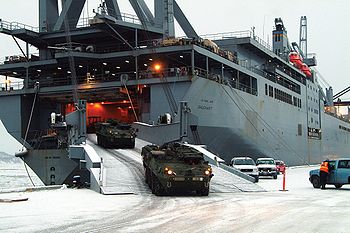 On May 7, 1996 Laura Maersk was delivered to Military Sealift Command and was outfitted at the National Steel and Shipbuilding Company's docks in San Diego, California.[2] Operated by Bay Ship Management, the newly renovated ship was christened the USNS Shughart during a special ceremony honoring of the Medal of Honor recipient Randy Shughart. Senator Bob Kerrey of Nebraska was the ceremony's principal speaker and serving as the ship's sponsor was Mrs. Stephanie Shughart, Sergeant Shughart's widow. The Shughart remains under the charter of the US Navy Military Sealift Command and is operated by US Merchant Marines.[2]
References