USS Carl R. Gray (ID-2671)
From SpottingWorld, the Hub for the SpottingWorld network...

USS Nausett at Delaware Breakwater, during the 1920s.
Career (USA)
Union Navy Jack 100x35px
Name:
USS Carl R. Gray
Namesake:
Former name retained.
Ordered:
as the civilian tug Carl R. Gray
Laid down:
date unknown
Launched:
in 1918 at Baltimore, Maryland
Acquired:
5 October 1918
Commissioned:
5 October 1918
Decommissioned:
28 February 1933 at the Philadelphia Navy Yard
Renamed:
USS Nausett (YT 35), 24 November 1920
Struck:
13 March 1933
Homeport:
Philadelphia, Pennsylvania
Fate:
sold in May 1933
Status:
ultimate fate unknown
General characteristics
Type:
tugboat
Displacement:
115 tons
Length:
88' 10"
Beam:
22' 6"
Draught:
9' 6"
Speed:
unknown
Complement:
unknown
Armament:
unknown
USS Carl R. Gray (No. 2671) -- later renamed USS Nausett (YT 35) -- was a tugboat, purchased by the U.S. Navy and commissioned on 5 October 1918, Boatswain J. Zucker in command.
East Coast Service
She was placed in commission as USS Carl R. Gray (ID # 2671) for service as a harbor tugboat with the Fifth Naval District.
In August 1919 she was transferred to the Fourth Naval District and on 24 November 1920 she was renamed and redesignated, becoming Nausett (YT-35). For the rest of her Naval career the tug served in the vicinity of the Philadelphia Navy Yard, Pennsylvania.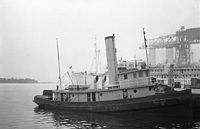 Decommissioned
On 28 February 1933 she was decommissioned. She was stricken from the Navy Register on 13 March 1933 and sold.
References
This article includes text from the public domain Dictionary of American Naval Fighting Ships. The entry can be found here.
See also
External links