USS Seattle (AOE-3)
From SpottingWorld, the Hub for the SpottingWorld network...
Career (US)
Laid down:
October 1, 1965
Launched:
March 1, 1968
Commissioned:
April 5, 1969
Decommissioned:
March 15, 2005
Struck:
March 15, 2005
Motto:
"Beans, Bullets & Oil"
Fate:
Disposed of by scrapping, dismantling
General characteristics
Class and type:
Sacramento-class fast combat support ship
Displacement:
50561 tons
Length:
796 ft (243 m)
Beam:
107 ft (33 m)
The second USS Seattle (AOE-3), a Sacramento-class fast combat support ship, was laid down on October 1, 1965, at the Puget Sound Naval Shipyard, Bremerton, Washington; launched on March 2, 1968; sponsored by Mrs. William M. Allen, Chairman of the Board of the Children's Orthopedic Hospital Association, Seattle; and commissioned on April 5, 1969, Capt. Bruce Keener III in command.
After fitting out, Seattle departed Puget Sound Naval Shipyard on September 24, 1969, en route to Norfolk. Seattle visited Long Beach, San Diego, Acapulco, the Panama Canal, and New Orleans, arriving at Norfolk, her designated home port, on November 22.
1970
Seattle left home port on January 2, 1970, for Guantanamo Bay and shakedown training. On January 13, Seattle took attack carrier, America, alongside for refueling. She departed again on January 19 for more exercises and a visit to Port-au-Prince, Haiti, before returning to Guantanamo on January 26.
Following additional exercises and battle problems, Seattle steamed for Mayport, Florida, and thence proceeded to Norfolk, arriving on February 12.
On February 26, Seattle was struck by a yard tug, puncturing a tank, and spilling black oil for almost two hours. The oil was quickly skimmed off the water, and no adverse reaction resulted from the mishap.
Seattle departed Norfolk on August 27 for her first overseas deployment. She entered her first European port, Lisbon, Portugal, on September 6. On September 8, she anchored off Rota, Spain. Passing through the Straits of Gibraltar the next day, Seattle loaded cargo onto Concord and then proceeded to the eastern Mediterranean Sea via Augusta, Sicily. The Jordanian Crisis had brought matters close to a boil, and Seattle served as the primary logistic support ship for Saratoga and her escorts. Toward the end of the month, Seattle was one of 12 ships reviewed by President Richard Nixon.
Seattle continued her support of Saratoga in the eastern Mediterranean until October 20, when she arrived in Athens, Greece.
Leaving Athens on October 29, Seattle replenished ships until November 9, when she pulled into Augusta, Sicily, for another one-day fuel lift. She then proceeded to Taranto, the Italian Navy's largest base, arriving on November 12.
Seattle departed Taranto on November 16 and continued replenishment of 6th Fleet ships. She spent from November 25 to December 1 in Naples. From December 8 to December 14, she was anchored in Barcelona, Spain; and ended the year at Villefranche, France.
1971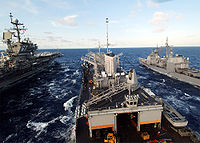 Seattle got underway on January 6, 1971, for operations in the vicinity of southeast Sicily. On January 17, she anchored in Naples, remaining there until January 22. She operated in the Ionian Sea, the Algiers-Provencal Basin, and off Barcelona until February 20, when she got underway for operations en route to Norfolk, arriving on March 1.
On August 10, Seattle departed for Puerto Rico, arriving at Roosevelt Roads on August 13. She operated around Puerto Rico, the Virgin Islands, Guantanamo, and Haiti before returning to Norfolk on October 11.
On December 1, Seattle steamed out of Craney Island, Virginia, for a six-month deployment to the Mediterranean. The fast combat support ship arrived at Rota, Spain, on December 9, and got underway on the following day for Augusta, Sicily, arriving on December 16. On December 19, she was en route to Naples, where she spent Christmas in port. On December 28, Seattle ended her stay in Naples and was underway to Barcelona, arriving on New Year's Eve. At the completion of a seven-month Mediterranean cruise, Seattle returned to Norfolk on June 29, 1972. She operated out of Norfolk for four months, then departed, on October 24, for an unscheduled deployment to the U.S. 6th Fleet. She participated in "Bystander" operations in the western Mediterranean and in exercise "National Week XIV" before returning to Norfolk on December 19.
1972–73
Seattle spent the remainder of 1972 at Norfolk and the first six months of 1973 in operations from that port. In June, she began another voyage to the "middle sea." This tour of duty lasted until December, with Seattle arriving in Norfolk on December 1.
Recent years
Seattle accompanied the John F. Kennedy carrier battle group on deployment to the Persian Gulf in June 2004. On August 12, 2004, Seattle rescued twelve crew of the Indonesian flagged cargo ship Edha II - delivering the survivors to Umm Qasr Port, Iraq. On December 14, 2004, she returned to Norfolk.
Seattle decommissioned on March 15, 2005.
External links
This article includes text from the public domain Dictionary of American Naval Fighting Ships.