Farr Yacht Design
From SpottingWorld, the Hub for the SpottingWorld network...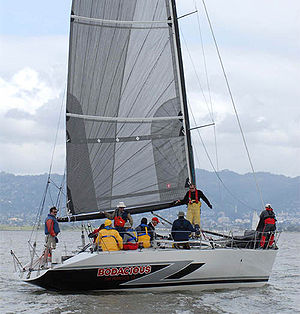 Farr Yacht Design, headed by Bruce Farr, is a racing yacht design team based in the United States. Its yachts measure from 25 to 125 feet (7.5 to 38 m). Farr develops custom and production yachts, including: interiors, sails, and hull design. Farr uses outside research and development with tank testing and wind tunnels.
Farr-designed yachts have won and placed well in a broad range of races.
The yachts designed by Bruce Farr are primarily light-displacement, fractional rig, wide sterned, shallow hulled yachts. Bruce was one of the first designers to realise that the fastest yachts around, for their size, are skiffs. Many of his early designs were comparatively skiff-like in appearance, and are quicker than the older, more traditional designs. Over the years more and more designers have followed the trend of designing light-displacement, wide sterned, shallow hulled yachts, as these are fastest. The latest Volvo Open 70 yachts are examples of this trend.
Farr Designed Boats
NOTE: PHRF rating shown is the Northern California Base Rate full keel with standard mast unless otherwise described.
| Design | PHRF |
| --- | --- |
| Farr 10/20 ODR | 108 |
| Farr 12-20 | 81 |
| Farr 30½ ton | 156 |
| Mumm 30 | 54 |
| Farr 33 | 102 |
| Farr 36 | 96 |
| Mumm 36 | 42 |
| Farr 38 | 84 |
| Farr 38-1 | 84 |
| Farr 395 | 24 |
| Farr 40 1 ton | 69 |
| Farr 40 ODR | 6 |
| Farr 42 | 66 |
| Farr 44 | 48 |
| Farr 46 | 66 |
| Farr 68 | -39 |
| Farr 727 | 192 |
| Farr 740 Sport | 162 |
Sources
External links