Isles of Scilly Steamship Company
From SpottingWorld, the Hub for the SpottingWorld network...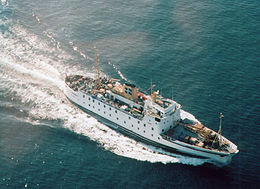 The Isles of Scilly Steamship Company operates a seasonal passenger service from Penzance, in the English county of Cornwall, to the offshore Isles of Scilly, together with a year round cargo service. The name of the company's principal ferry, the Scillonian III, is perhaps better known than that of the company itself.
The company is based in the Isles of Scilly Travel Centre Penzance,[1] and also owns Isles of Scilly Skybus Ltd, an operator of fixed-wing aircraft services to the Isles of Scilly, and Westward Airways, an operator of sight seeing flights.[2]
History
From 1870 the Penzance to Scilly ferry service was operated by the West Cornwall Steam Ship Company. This was wound up in 1920 and the present company took over.
The original Scillonian was built for the Isles of Scilly Steamship Company in 1925 by Ailsa Shipbuilding Company Ltd of Troon, Scotland to carry 400 passengers and cargo. The first regular trip of this vessel took place on Thursday 2 February 1926 from St. Mary's to Penzance.
Following this ship Scillonian II entered into service in 1956, built by John I. Thornycroft & Company of Woolston, Southampton, and was in service until 1977. A second ship operated for a while named Queen of the Isles. At approx 500 tons she was smaller than Scillonian II and was used to augment the larger ship at busy times. She was also used to run charter services to the Islands from other ports. On her sale she went to operate an inter-island service in the Pacific.
The present Scillonian III was purpose built for the Steamship Company in May 1977. Scillonian III is the third passenger ship of this name and currently in service for passengers and cargo 8 months of the year. Due to the number of tidal currents which meet off Lands End, and the need for a shallow draught to allow access to the Islands, the sea journey to Scilly can be rough. For this reason Scillonian III was fitted with a "Flume" stabilizer system.
Fleet
The Isles of Scilly Steamship Company fleet consists of the following ships (at December 2005):
Services
Scillonian III operates a return service from March/April to November (Monday to Saturday, and Sundays during August 2006). She departs Penzance at 9.15am and returns from St. Mary's at 16.30pm, although these times may differ on certain dates due to tidal conditions, school holidays, and other events. The sailing time is approximately 2 hours 40 minutes.
During the winter, when Scillonian III is out of service, a cargo only service is provided by Gry Maritha.[3]
Future
In early 2007, press reports indicated that Cornwall County Council was expected to approved plans for the construction of a new ro-ro replacement ferry at a cost of £17.5 million. This vessel would be leased to the Isles of Scilly Steamship Company and would replace both Scillonian III and Gry Maritha.[3]
References
External links