MS Mersey Viking
From SpottingWorld, the Hub for the SpottingWorld network...

Mersey Viking in the Mersey channel
Career
Name:
Mersey Viking
Owner:
Levantina Trasporti Srl
Operator:
Norfolkline
Port of registry:
2005-2008: Bari, 22x20px Italy
2008-present: Belfast,  United Kingdom
Builder:
Cantiere Navale Visentini
Maiden voyage:
July 2005
Identification:
IMO number: 9329851
Status:
in service
General characteristics
Class and type:
RO/PAX
Tonnage:
27,700 gt
Length:
186 metres (610 ft)
Beam:
26 metres (85 ft)
Draft:
6 metres (20 ft)
Installed power:
2 MAN/B&W 9L 48/60B
Speed:
max 27 knots (operational 23 kts)
Capacity:
970 passengers
Notes:
IMO number 9136022[1]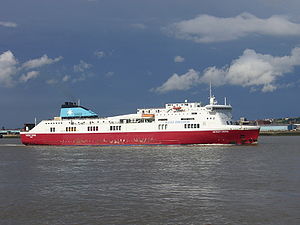 The Mersey Viking is a ferry that is operated by Norfolkline Irish Sea Ferry Services. The Mersey Viking name has been in the company since 1997 (formerly Norse Irish Ferries), although the name was given to the new vessel in 2005. The original Mersey Viking was re-named Dublin Viking and placed on the Dublin–Birkenhead run last year.
History
The new Mersey Viking entered service in July 2005. She was built by Cantiere Navale Visentini. She is 27,700gts and can carry up to 700 passengers in her 2 lounges (passenger certificate in 970), and can sleep up to 480 passengers in cabins. She has 4 vehicle decks and room for around 200 lorries. Her maximum speed is 27 knots, but usually sails at 23 knots maximum. She sails on the Belfast–Birkenhead route on charter with her marginally older sister ship the Lagan Viking. Her charter to Norfolk Line is to expire in 2008, although when the ship was first chartered it was charted with the possible intention of being bought outright by Norse Merchant Ferries, or as they are now known, Norfolkline.
The Belfast–Birkenhead route is invaluable to drivers as it saves them driving through Scotland on poor single-carriageway roads and behind a great number of freight vehicles.
In all the total journey time on board the ship is 7 hours.
The ship has several facilities on board such as restaurants, bars, shops and a cinema.
External links

Wikimedia Commons
has media related to:
[[Commons: Category:Mersey Viking
| Mersey Viking
]]