MS The World
From SpottingWorld, the Hub for the SpottingWorld network...

The World in Melbourne, Australia
Career
Name:
The World
Operator:
ResidenSea in Miramar, Florida
Port of registry:
Bahamas
Ordered:
2000
Builder:
Fosen Mek. Verksteder A/S in Rissa, Norway
Yard number:
N.71
Laid down:
2001
Launched:
March 2002
Completed:
2002-03-13
Status:
in active service, as of 2023
General characteristics
Tonnage:
43,524 Gross
Length:
196.35 m (644 ft 2 in)
Beam:
29.8 m (97 ft 9 in)
Draft:
6.7 m (22 ft 0 in)
Installed power:
Marine diesel
Speed:
18.5-knot (34.3 km/h)
Capacity:
150-200 passengers average
Crew:
250
The World is a ship serving as a residential community owned by its residents. The residents, from about 40 different countries, live on board as the ship slowly circumnavigates the globe — staying in most ports from 2 to 5 days. Some residents live on board full time while others visit their floating home periodically throughout the year. It is operated by ResidenSea, headquartered in Miramar, Florida.[1] At one time ResidenSea's headquarters were in unincorporated Miami-Dade County.[2]
General
The World flies a Bahamas flag and has a gross tonnage of 43,524 tons. The vessel is 644 feet (196 m) long, 98 feet (30 m) wide, and has a 22-foot (6.7 m) draft, 12 decks, and a maximum speed of 18.5 knots (34.3 km/h). The crew numbers 250.
The ship has 165 residential units (106 apartments, 19 studio apartments, and 40 studios), all owned by the ship's residents. The ship carries between 100 and 300 residents and their guests.
Original concept and construction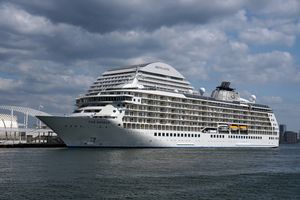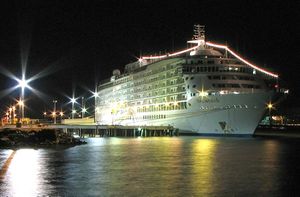 The World was the idea of Knut U. Kloster Jr., whose family had a long history in the cruise ship industry. The ship was built in Rissa, Norway, by Fosen Mek. Verksteder A/S, and launched in March 2002.
ResidenSea in Miramar, Florida, remained the management company responsible for operations and administration of the ship, including hiring the hundreds of employees that offer services such as housekeeping, beauty treatments, photography and other amenities. The residents, through their elected board of directors and a network of committees, provide guidance to the management about the ship's itinerary, finances and lifestyle.
Facilities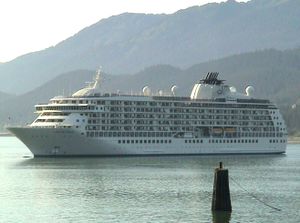 The World has facilities similar to those on board a regular cruise ship, and also some that are unique due to its residential nature. They include a small grocery store and delicatessen, a boutique, athletic facilities that include a golf simulator, putting green, casino, full-sized tennis court, jogging track and gym.
There are five restaurants that supplement the full kitchens in all apartments and dining ashore. For on-board entertainment there is a movie theatre, library and music performances. In addition to shore excursions, classes have been offered on board in topics such as dance, navigation, language, cooking, arts and crafts, music, computers, and photography. The World provides Internet access in each residence.
References
Sightings
27 July 2010 - Dartmouth, Devon
27 July 2010, The World entered Dartmouth harbour in Devon, coming in astern. She came into harbour starting at around 07:15BST and was moored with single lines by 07:50BST. The attending tug had no work to do. the line was slack throughout the manoeuvre.
She left Dartmouth in the morning of 29 July bound for Fowey in the afternoon
<googlemap version="0.9" lat="50.353621" lon="-3.573561" zoom="15" width="400" controls="large"> 50.350718, -3.574977 The World moors in Dartmouth on 27 July 2010 </googlemap>
29 July 2010 - Fowey, Cornwall
29 Juy 2010, The World entered Fowey coming in astern at approximately 6pm, and moored
<googlemap version="0.9" lat="50.331984" lon="-4.634171" zoom="14" width="400" controls="large"> </googlemap>
Pictures of her Dartmouth visit
Videos
There is a growing collection of videos of The World including the example below at her video page.
The World coming into Dartmouth on 27 July 2010
Pictures
<flickr limit=8>The World Cruise Ship</flickr>
External links

Wikimedia Commons
has media related to:
[[Commons: Category:The World (ship)
| The World (ship)
]]