MV Bretagne
From SpottingWorld, the Hub for the SpottingWorld network...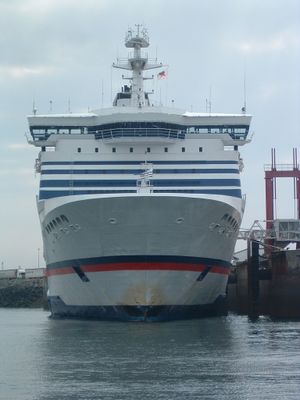 MV Bretagne is a ferry operated by Brittany Ferries. She was built at Chantiers de l'Atlantique shipyard in Saint-Nazaire, France and has been sailing for Brittany Ferries since 1989. She was Brittany Ferries flagship until the arrival of MV Val de Loire in 1993.
Regular routes
Other routes served
Bretagne has seen use on Portsmouth-Caen (Ouistreham) as refit cover and also the winter only route of Plymouth-St Malo. She also sailed between Portsmouth and Santander during the winter in the mid-nineties.
Though generally found on the Portsmouth-St Malo route Bretagne will also operate on other routes, normally in Winter, such as Portsmouth-Cherbourg and Plymouth-Roscoff.
Bretagne was used on the Poole-Cherbourg route between 26 February 2007 and 10 March 2007. She then became the only current passenger vessel in the Brittany Ferries fleet to visit every port served by the company and to have operated on all the current routes. It was originally planned that she would return to Poole in January 2008 to cover for the absence of the Cotentin. In addition to sailing to Cherbourg alongside the Barfleur she would also have sailed between Poole and Santander at the weekend departing Poole on Friday night and arriving back on Monday morning. This plan was dropped shortly after the publication of the 2008 timetable and Bretagne instead covered for the refit on the Mont St Michel on the Portsmouth-Caen route.
Onboard facilities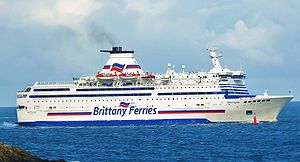 Bars and restaurants
Les Abers A la Carte Restaurant - Deck 7.
La Baule Self Service Restaurant - Deck 7. Refurbished in 2009 and enlarged by removal of the separate freight drivers restaurant.
Le Cafe 'La Gerbe de Locronan'- Deck 8. Rebuilt in 2009.
Gwenn Ha Du Bar - Deck 8.
The Yacht Club Piano Bar - Deck 7.
Le Lido Bar (rarely open). Replaced by 'Games Planet' area in 2007 - Deck 9.
Shops
La Boutique - Main shop on Deck 7, smaller shop on Deck 6.
Le Kiosque - Deck 6.
La Vitrine - Deck 7.
Photo Shop - Deck 7.
Other facilities
Cinemas - Deck 5.
Children's Playroom - Deck 8.
376 Cabins - Decks 1, 2, 6 and 8 (Commodore Class, Club4, 2 and 4 berth cabins).
454 Reclining Seats - Decks 8 and 9.
Commodore Lounge (rarely open) - Deck 9.
During 2006 the Commodore Lounge was used as a storage area for the ships entertainer's costumes and equipment.
In early 2009 Bretagne underwent a £5million refit. The work included creation of 50 'Club 4' cabins along with refurbishment of the rest of the ships cabins, refurbishment of the self service restaurant, refit of the 'La Gerbe de Locronan Salon de Thé' to create a wi-fi cafe area and rebuilding of the reclining seat lounges to create new lounge areas for business, reading and watching television[1][2].
References
↑

Voyage Magazine Winter 2008
External links