PS Tattershall Castle
From SpottingWorld, the Hub for the SpottingWorld network...

The PS Tattershall Castle located at Embankment in London
Career (UK)
Name:
The Tattershall Castle
Namesake:
Tattershall Castle, Lincolnshire.
Owner:
LNER (1934-1974)
Chef & Brewer (1982-2004) TCG (2005)
Route:
River Humber crossing (1934-1974)
River Thames (1981-present)
Ordered:
1934
Builder:
William Gray & Company, Hartlepool, UK
Launched:
24 September 1934
Commissioned:
24 September 1934
Decommissioned:
1974
Status:
Restaurant and bar moored on the River Thames
General characteristics
Type:
Paddlesteamer
Tonnage:
556 GT
Length:
209 feet (64 m)
Beam:
56 feet (17 m) (including paddle box)
Propulsion:
Triple expansion, diagonal stroke, reciprocating steam engine
Speed:
12.0 knots (22.2 km/h; 13.8 mph)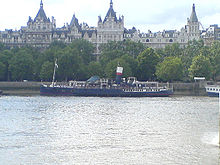 The PS Tattershall Castle is now moored on the River Thames at the Embankment, and is used as a floating pub and restaurant. It was recently refitted at a cost of several million pounds.
The steamer was built in 1934 as a passenger ferry on the River Humber between Kingston upon Hull and New Holland. It found service as a tether for barrage balloons during the Second World War. In 1981 , after long service as a passenger and goods ferry, the ship was towed to London. The opening of the Humber Bridge made the ferry service, known to have existed since at least Roman times[1], redundant.
A sister ship also launched in 1934, the PS Wingfield Castle, is preserved at Hartlepool's Maritime Experience.
A third similar Humber ferry, the PS Lincoln Castle, built in 1940, is moored in Alexandra Dock, Grimsby, where it also serves as a floating pub and restaurant.

Coordinates: 51°30′20″N 0°07′20″W / 51.5056°N 0.1222°W / 51.5056; -0.1222
References
External links