PS Waverley
From SpottingWorld, the Hub for the SpottingWorld network...

PS Waverley steaming down the Firth of Clyde
Career (UK)
Name:
PS Waverley
Operator:
Waverley Excursions
Builder:
A. & J. Inglis, Glasgow
Yard number:
1330P
Launched:
2 October 1946
Maiden voyage:
16 June 1947
Identification:

IMO Number: 5386954[1]
Callsign: GRPM


MMSI Number: 232001540
Status:
in service
General characteristics
Class and type:
Coastal excursion paddle steamer
Tonnage:
693 grt
Length:
239 ft 11 in (73.13 m) s
Beam:
57 ft 3 in (17.45 m) s
Draught:
6 ft 3 in (1.91 m) s
Installed power:
2,100ihp (1,566kW)
Propulsion:
Diagonal triple expansion steam engine built by Rankin & Blackmore Ltd, Greenock
Speed:
14 knots in service
Trials speed (1947) 18.37 knots at 56 rpm
Capacity:
Up to 925 passengers in Class V waters.
Notes:
[2]
The paddle steamer Waverley is the last operational Clyde steamer, and has been the last seagoing paddle steamer in the world since 1972. Since 2003 Waverley has been listed in the British National Register of Historic Ships core collection as 'a vessel of pre-eminnent national importance'. Named after Sir Walter Scott's first novel, the Waverley regularly sails from Glasgow and other towns on the Firth of Clyde, the Thames, the South Coast of England and the Bristol Channel; as well as making more infrequent excursions from other British ports.
History
The Waverley was built in 1946 as a replacement for an earlier PS Waverley of 1899 that took part in the WW II war effort as a minesweeper and was sunk in 1940 while helping with the evacuation of troops from Dunkirk. The new 693-tonne steamer was launched in October 1946 at builders A. & J. Inglis, Glasgow, and entered service in June 1947. She was built for the London & North Eastern Railway Company to sail on their Firth of Clyde steamer route from Craigendoran Pier, near Helensburgh, up Loch Long to Arrochar, and in her first year in service she wore that company's red, white and black funnel colours. In 1948 nationalisation of Britain's railway companies brought the steamers under the control of the Caledonian Steam Packet Company (CSP), a subsidiary of the Railway Executive, and the funnels were repainted yellow with a black top. In 1965 a Scottish red lion rampant was fixed to each side of both funnels, and her hull was painted monastral blue until 1970.
After a revival of pre-war fortunes in the 1950s, the 1960s saw a gradual change in holiday habits leading to a decline in passenger numbers, and the closure of many of the small piers. Since 1969, and the formation of the Scottish Transport Group, the CSP had been gradually merging with the West Highland shipping and ferry company David MacBrayne Ltd, and in 1973 the company became Caledonian MacBrayne Ltd.
Restoration
The Waverley was withdrawn after the 1973 season as too costly to operate and in need of significant expenditure. By then the Paddle Steamer Preservation Society (PSPS) had been set up as a registered UK charity, and had acquired the near-derelict small River Dart paddler PS Kingswear Castle. Caledonian MacBrayne, keen to ensure that the ship was preserved, sold the Waverley to the PSPS for the token sum of one pound (GBP). Neither side really believed that the vessel would return to steam but, just in case, Caledonian MacBrayne stipulated that she should not sail in competition with their remaining cruise vessel, TS Queen Mary. A public appeal was launched to secure funding for the return of the Waverley to service and the fund-raising operation was successful. The PSPS found themselves running a cruise ship operation: Waverley Excursions.
Since then the Waverley has been joined in the PSPS fleet by PS Kingswear Castle and MV Balmoral, and has had a series of extensive refits and a lot of restoration work, including a new boiler and improvements to meet modern safety standards. She has circumnavigated Britain and every year carries out extensive sailings around the country.
Listed as part of the National Historic Fleet, Core Collection, between 2000 and 2003 the ship underwent a substantial rebuild and reboilering, funded principally by the Heritage Lottery Fund. The work was done in two stages at the shipyard of George Prior at Great Yarmouth and has succeeded in returning the ship to her original 1946 livery with the inclusion of many 21st Century safety and technological improvements.
Setbacks
On the evening of Friday 15 July 1977 while returning from a cruise and approaching Dunoon pier the Waverley's steering failed and she struck the rocks to the south known as 'The Gantocks′. Firmly aground and down by the head the ship was extensively damaged.[3] There was some doubt about whether or not she would hold together on refloating but she did, and she was repaired and returned to service. Her survival was attributed to her heavier than normal post World War II construction which had included provision for minesweeping gear and a deck gun in case she was ever requisitioned by the Admiralty for use in a future conflict.
On 15 September 2008, Waverley was involved in minor damage to Worthing Pier. After she berthed and secured lines to pier bollards, part of the landing stage became dislodged. No damage was sustained to the steamer but she had to depart without taking on passengers. The only damage to the pier was that a length of timber was pulled out.[4]
On 26 June 2009, Waverley struck the pier at Dunoon, resulting in damage to both the ship and pier. Some 700 people were on board at the time, and 12 suffered minor injuries. The ship returned to Glasgow, where a damage assessment was carried out. One week later she was back in service on the Clyde.[5]
Through her 30 plus years of preservation incidents such these have been given prominent media exposure - something that would not have happened when this type of vessel was commonplace, perhaps a sign of her uniqueness. Compared to many other forms of transport the vessel's reliability is good - typical of an era when things were made to last!
Layout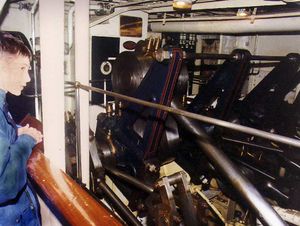 PS Waverley has had a number of differing variations of colour scheme throughout its life. Early photographs show paddle boxes painted sometimes white and sometimes black, and square 'windows' instead of today's port holes. The gold stripe along the hull is sometimes present in shots and sometimes not. Also lifeboat arrangements have varied depending on the legislation at the time. Between 1975 and 1980 there was only one traditional life boat on the rear deck giving the ship a quirky unbalanced appearance from the rear.
For most of its life the upper passenger cabins were painted white and featured wooden doors; all have undergone layout improvements at some time in the ship's life. Sailing in all weathers in salt water can cause pale brown rust streaks to appear by the end of each season, so cosmetic painting and improvements are undertaken annually as the ship is drydocked and checked by the Department of Transport.
Since 1962, when PS Waverley's original funnels were renewed, replacement items had sat slightly out of parallel due to their heavier welded steel construction. The problem was addressed in the 2000-2003 refit and Waverley's funnels now run true.
Today the steamer features the noticeable red, white and black funnels with the traditional brown grained (or "scumbled") superstructure (of 1947) and black paddle-wheel boxes, decorated with gold lettering on each side.
The ship's operators claim the Waverley is "probably the most photographed ship in the world".[6]
The Waverley is powered by a triple-expansion, three-crank diagonal steam engine (made by Rankin & Blackmore, Engineers, Eagle Foundry, Greenock, Scotland), which is rated at 2,100 IHP and achieved a trial speed of 18.37 knots at 57.8 rpm. Passengers can watch these engines from passageways on each side of the engine room.[7]
The main crank is solidly attached to both paddle wheels so they cannot turn independently of each other. The Waverley therefore has a much larger turning circle than modern ferries.
Gallery

Wikimedia Commons
has media related to:
[[Commons: Category:PS Waverley
| PS Waverley
]]
Footnotes
References
McCrorie, Ian (1986). Clyde Pleasure Steamers. Greenock: Orr, Pollock & Co. ISBN 1-869850-00-9.
External links