RMS Empress of Asia
From SpottingWorld, the Hub for the SpottingWorld network...

Empress of Asia
Career
Name:
Empress of Asia
Owner:
Canadian Pacific Steamships
Port of registry:
Canada
Builder:
Fairfield Shipbuilding and Engineering, Govan, Scotland
Launched:
23 November 1912
Completed:
June 1913
Fate:
Sunk by Japanese aircraft off Sultan Shoal on 5 February 1942.
General characteristics
Type:
ocean liner
Tonnage:
16,909 g, 8,883 n
Length:
570.2 ft
Beam:
68.2 ft
Propulsion:
Quadruple propellers, 4 x steam turbines by Builder, 3, 750 nhp
Speed:
19 knots
Capacity:
1,180 passengers
RMS Empress of Asia was an ocean liner built in 1912-1913[1] by Fairfield Shipbuilding and Engineering at Govan on the Clyde in Scotland for Canadian Pacific Steamships. She was distinguished by the Royal Mail Ship (RMS) prefix in front of her name because the British government and Canadian Pacific Railway (CPR) had decades earlier reached agreement on a contract for subsidized mail service between Britain and Hong Kong via Canada.
As well as being a passenger liner in peacetime, Empress of Asia served as an armed merchant cruiser and a troopship in wartime. She was sunk during World War II by Japanese aircraft while transiting from Bombay to Singapore.
Service history
The Empress of Asia was built by Fairfield Shipbuilding and Engineering at Govan near Glasgow in Scotland[2] She was launched in 1912; and she completed her maiden voyage in 1913.
In May 1914, Captain Samuel Robinson pushed the RMS Empress of Asia and her crew in setting a new world's record for both a single day's steaming (473 nautical miles) and for crossing the Pacific (nine days, two hours, and fifteen minutes).[3]
World War I
During the First World War, the Empress of Asia was converted into an auxiliary cruiser at Hong Kong. She was armed with eight 4.7 inch guns and Royal Navy officers took command. Among her peacetime crew only those in the Royal Naval Reserve were retained.
She was deployed in Asia, in the Middle East and in the Atlantic.
In late 1914, the Empress of Asia was among the cruisers tasked with hunting the SMS Emden in the Indian Ocean east of Ceylon.[4] The Empress of Asia transported wounded German prisoners from the sunken Emden to Columbo.[5]
In 1919, the Empress of Asia returned to Vancouver carrying the 72nd Battalion, Seaforth Highlanders of the Canadian Expeditionary Forces (CEF); and the men disembarked from the ship at the CPR pier.[6]
Inter-war period
Amongst the celebrities who sailed in the Empress of Asia was Bertrand Russell. The writer traveled from Yokohama to Vancouver in the late summer of 1921.[7] Physicist Niels Bohr made the trans-Pacific crossing in April 1924 aboard the Empress of Asia.[8]
The Empress of Asia and the Empress of Canada evacuated civilians from Shanghai in 1937 during the Sino-Japanese War.
World War II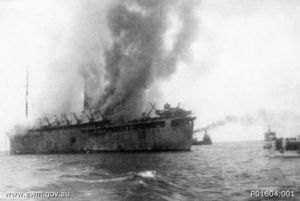 The Empress of Asia was requisitioned by the British Admiralty in January 1941 and sailed for Liverpool via the Panama Canal to the River Clyde for refitting as a troopship. For armament she received a 6 inch gun, a 3 inch gun HA, 6 20 mm Oerlikons, 8 Hotchkiss, Bofors guns, 4 PAC rockets and depth charges.[9]
Her first task was to take soldiers of the Green Howards to Suez via the Cape of Good Hope to participate in the North Africa Campaign. From there she took Italian prisoners of war to Durban.
In September 1941, the Empress of Asia sailed with the first convoy from North America to England which was escorted by ships of the United States Navy.[10]
The final voyage of the Empress of Asia began in November 1941, when she sailed from Liverpool carrying troops and supplies bound for Africa, Bombay and Singapore.
She was one of five CPR ships that were taking men and materiel to reinforce Singapore in the face of the Japanese advance. On 5 February 1942, the convoy in which the Empress of Asia was sailing encountered Japanese air-attacks near Singapore. Nine Japanese dive bombers focused their attack on the Empress of Asia.[11] She was extensively damaged and sank near the island of Sultan Shoal in the Western Anchorage of Singapore about 8 kilometres (5 miles) south of the western tip of Singapore Island. Escort vessels HMAS Wollongong, HMS Dana, HMIS Sutlej stood by while Commander Wilfred Harrington maneuvered the bow of HMAS Yarra alongside the liner's stern and taking off 1804 survivors. There were 16 deaths. Despite rescue efforts organized by Robert Rankin, all the military equipment and other supplies were lost.[12]. Singapore would fall to the Japanese only ten days later (15 February 1942), which makes it hard to speculate about what difference it coulld have made if the Empress of Asia had not been sunk.[13]
The last convoy of evacuees leaving Singapore included the SS Sing Kheng Seng of the Straits Shipping Company, carrying 45 crewmen from the Empress of Asia along with an unknown number of other.[14]
Leonard H. Johnson was chief mate of the Empress of Asia when she went down. He took charge of 40 other young survivors and led his crew-mates safely to Fremantle, Australia. The journey involved sailing on three inter-island steamers to Sumatra, hiking over 100 miles across the island to catch a ferry to Java, and then a voyage from Batavia to Australia aboard a flat-bottomed river boat with Johnson serving as navigator. He was honored with the OBE for his exploits.[15]
See also
References
External links