Redwitch
From SpottingWorld, the Hub for the SpottingWorld network...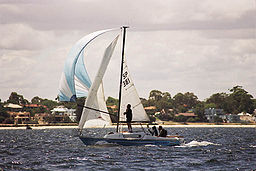 A Red Witch is a shallow draft 6 metre yacht, designed to fit under major bridges on the Swan River in Western Australia. The boats are easy to cruise and race. The hull and cabin are made out of Glass-Reinforced Plastic, the keel is cast iron and the rudder is wooden. The transom has space for an outboard bracket. If upturned (capsized) in a storm its easier to right than most other yachts with a wider beam.
The Red Witch was a development by Hill & Cameron Yachts Perth of a 22 foot (6.7 metre) "Seal" yacht from England. It was subsequently further developed to produce a "Sorcerer" 20ft 6in (6.25 Metre) to cater for more the serious racing in what was a local Division IV category - maximum length 6.25 metres maximum width 2.5 metres
The Red Witch was preceded by the Red Eagle and Red Jacket designs, both of which are very similar to the Red Witch. The Red Eagle is longer, narrower, has a longer cockpit and a higher cabin roof, similar to the Red Jacket, than the red witch. Also developed by Hill and Cameron in the mid 1970's was the Red Baron catamaran at 5.99m LOA with a 2.63m beam, 0.30m draft, displacement of 352kg and sail area of 13.8sq m. The Red Baron was designed by Neil Fowler of Darwin.
External links
Red Witch Yachting Association