SS Adolph Woermann
From SpottingWorld, the Hub for the SpottingWorld network...
250px
SS Adolph Woermann
Career
Name:
Adolph Woermann
Port of registry:
22x20px Hamburg (1922-33)
22x20px Hamburg (1933-39)
Builder:
Blohm + Voss
Yard number:
395
Launched:
1922
Maiden voyage:
15 November 1922
Out of service:
22 November 1939
Fate:
Scuttled
SS Adolph Woermann was a German ship built in 1922 by Blohm & Voss in Hamburg, Bau-Nr. 395 for the shipping lines Woermann-Linie (WL) and German East Africa Line (Deutsche Ostafrika Linie, DOAL) and named after German merchant, ship owner and politician Adolph Woermann.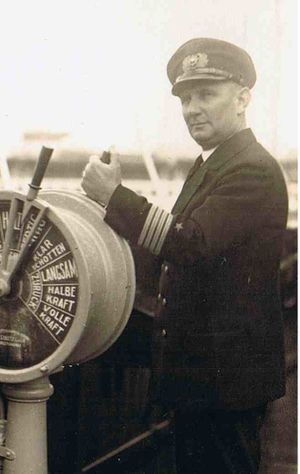 At the outbreak of World War II on the homebound trip Adolph Woermann lay at Lobito and was held up by Portuguese authorities.
On 16 November 1939 she left Lobito trying to reach South America.
Disguised as Portuguese ship Nyassa, she was traced by the British Waimarana who informed HMS Neptune. On the approach of Neptune on 22 November Capt. Otto Burfeind evacuated Adolph Woermann and sank her according to governmental order.
Crew and passengers were taken up in a friendly manner by the Neptune's crew. It is reported that one Neptune crew member was injured in trying to save the liner by going onboard to close the flood-valves.
Passengers and crew of Adolph Woermann were taken to England and interned at Seaton/Devon.
In 1940 most of the internees from the camp were taken on the Arandora Star and so was Capt. Burfeind and his crew, and he was lost when that ship was sunk by the German submarine U-47 on 2 July 1940.
Data
Displacement: 8576 BRT / 4944 NRT
Dimensions: 131.8 x 17.7 m
Engine: 1 B&V-turbine, 3300 PSw
Speed: 12 kn
Passengers: 1st class 100, 2nd class 57, 3rd 134
Crew: 156
Maiden voyage: on 15 November 1922
Service: for WL (Woermann Linie) and DOAL (German East Africa Line) Hamburg / Africa
References
Arnold Kludas, Schiffe der deutschen Afrika Linien 1880-1945, Stalling-Verlag, Hamburg, 1975
Claus Rothe, Deutsche Ozean-Passagierschiffe 1919 bis 1985, Steiger Verlag, Moers, 1987