SS American Victory
From SpottingWorld, the Hub for the SpottingWorld network...

SS American Victory is a Second World War Victory ship which has been preserved as a museum ship in Tampa, Florida. The ship is the main feature of the American Victory Ship & Museum, also known as the American Victory Mariners Memorial & Museum Ship.
History
Named after American University in Washington, D.C., she was built at the California Shipbuilding (Calship) Yard in Los Angeles, California and was delivered on 20 June 1945. She carried cargo in the Pacific until the end of the war, when she collected military equipment from Calcutta and Port Said for return to the United States.
Post WWII Service
From June 1946 until November 1947 she was chartered by American Export Lines, carrying foodstuffs and machinery exported from the United States to Europe under the Marshall Plan. She was then laid up in the Hudson River Reserve Fleet until she was again chartered by commercial shipping lines from 1951 until January 1954 when she entered the Sabine River Reserve Fleet in Texas.
In 1963 plans were made to convert her and 14 other Victory ships to "forward depot" vessels, to be loaded with war materiel and stationed near potential flashpoints to provide American forces with pre-positioned supplies. The scheme was cancelled in February 1966 after only three conversions had been carried out. Had American Victory been converted, she would have been renamed USNS Carthage and assigned pennant AG 185.
She was removed from reserve and chartered to the Hudson Waterways Corporation in 1966, which used her to ferry military equipment to American forces in South Vietnam. She was deactivated again in October 1969 and placed in the James River Reserve Fleet in Virginia where she remained until 1985. She was then renovated as part of a program to determine the effort needed to reactivate mothballed Victory ships. In June after $2.5 million had been spent to bring her up to operational condition she sailed for just 26 hours before returning to the reserve fleet.
Current status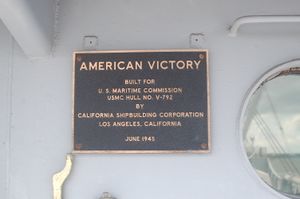 One of several Victory ships due to be scrapped, she was rescued in October 1998 for preservation as a museum ship and memorial. She arrived under tow at Tampa on 16 September 1999 where she is now on display and included on the National Register of Historic Places. Guided and self guided tours are available. Some areas are off limits for tours, such as the lower areas of the engine room (but visible from a catwalk). Photos of her dry dock restoration are hanging in the mess hall. Several rooms have been restored and are decorated in original period memorabilia, such as the captains quarters and galley cold storage.
She has been upgraded with modern VHF radio and radar (visible on the command deck), and more modern electronics have been added to the electricians quarters and radio room, but is generally in her historic form. Her 3 inch bow mounted deck gun is still in place although demilitarized.
The museum "crew" take pride in the fact that she is a sea worthy vessel.
In addition to her floating museum role, American Victory still sails for "Living History Day Cruises".
Coordinates: 27°56′37″N 82°26′39″W / 27.943668°N 82.444102°W / 27.943668; -82.444102
References