SS Manhattan (1931)
From SpottingWorld, the Hub for the SpottingWorld network...
SS Manhattan was a 24,189-ton luxury liner of the United States Lines, named after a borough of New York City.

A Postcard Of The SS Manhattan.
Career
United States Lines
Builder:
New York Shipbuilding Corp., Camden
Laid down:
6 December 1930
Launched:
5 December 1931
Commissioned:
5 June 1941
Decommissioned:
16 Jun 1946
Renamed:
USS Wakefield (1941)
Struck:
1959
Fate:
scrapped 1964 (Kearny, NJ)
General characteristics
Tonnage:
24,289 gross tons
Length:
705 ft (215 m)
Beam:
86 ft (26 m)
Propulsion:
Steam Turbines - Twin Screw
Speed:
20 Knots Standard
Capacity:
1,100+ passengers, 500 crew
Commercial career
At the time of their construction, Manhattan and her sister ship Washington, also built by New York Shipbuilding, were the largest liners ever built in the United States, and Manhattan was the first large liner built in the US since 1905. Manhattan and Washington were two of the few pure liners built by New York Shipbuilding, which had previously built a large number of cargo liners. She carried over 1,100 passengers in cabin, tourist and third class. She and her sister, the Washington, had cabin class accommodations that were so luxurious it forced other liners to rename their first class as cabin class.
Travel writer Douglas Ward claims in his book "Berlitz Guide to Cruising" that the alcoholic beverage "Manhattan" was named after the ship. However, there is little evidence to confirm this.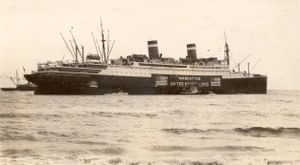 Beginning in August 1932, Manhattan flew the US Lines flag on the New York-Hamburg route, a route she would continue to serve with only one short break until December 1939, when Roosevelt invoked the 1939 Neutrality Act against Germany. In 1936 the ship carried the US Olympic team to the Olympic Games in Berlin. From January 1940 until Italy's entry into World War II in June 1940, Manhattan sailed between New York and Genoa. In January 1941, while in coastal service on the Atlantic seaboard, Manhattan went aground just off the Florida beaches nine miles north of Palm Beach. She was finally refloated after 22 days.
As a Troopship
On 6 June, 1941, Manhattan was requisitioned and leased by the US Navy, and was subsequently commissioned as the troopship USS Wakefield on 15 June, 1941. Assigned a Coast Guard crew under Commander Wilfrid N. Derby, she became the largest vessel ever operated by the Coast Guard.
Manhattan would never reenter commercial service. On 3 September 1942, while en route from Clyde to New York as part of convoy TA-18, fire broke out aboard. Taken in tow by the Canadian Salvage vessel Foundation Franklin Wakefield reached Halifax under tow five days later, she was still burning, and by the time the last flames were extinguished, her hull was effectively gutted. Paid off by the US Navy, she was towed to Boston Navy Yard and rebuilt to troopship specifications.
See also
References
Gibbs, C.R. Vernon (1957). Passenger Liners of the Western Ocean (2nd ed). London: Staples Press Limited. LCCN 57001880
New York Shipbuilding Corporation (1948). 50 Years: New York Shipbuilding Corporation. Camden:house publication
Newell, Gordon (1963). Ocean Liners of the 20th Century (1st ed.). Seattle: Superior Publishing Company. LCCN 63-18494
www.frankwycoff.com