Spirit of Portsmouth
From SpottingWorld, the Hub for the SpottingWorld network...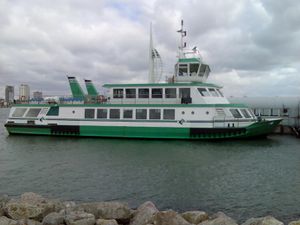 Spirit of Portsmouth is a vessel owned by the Gosport Ferry Company Ltd and built by VT Halmatic Ltd of Portchester.[1]. It is the company's newest vessel.
History
The vessel was built in 2005 to replace the similar Spirit of Gosport, primarily for cruising Portsmouth Harbour and the Solent. This enabled the Spirit of Gosport to replace the Portsmouth Queen on the Gosport to Portsmouth ferry route. The main difference between the two Spirit vessels is the covered roof and bar on the Spirit of Portsmouth, making her more suited to cruising. Spirit of Portsmouth will however service the ferry route when either the Spirit of Gosport or the other ferry Gosport Queen are out of service.
Upon the introduction of the Spirit of Portsmouth, the 1966 built Portsmouth Queen was withdrawn from service. The previous vessel that was dedicated to cruise duty was the Solent Enterprise. Spirit of Portsmouth is currently the Gosport Ferries flagship. IMO number: 9319894
References