USAT Dorchester
From SpottingWorld, the Hub for the SpottingWorld network...
See USS Dorchester for commissioned United States Navy warships of this name.
USAT Dorchester was a United States Army Transport ship that was sunk when it was part of a naval convoy during World War II.
In February 1943, Convoy SG-19 left St. John's, Newfoundland, bound for the Army Command Base at Narsarsuaq in southern Greenland. SG-19 consisted of six ships: Dorchester, two merchant ships (SS Lutz and SS Biscaya) that were leased by the United States from the Norwegian government-in-exile, and their escorts, the small United States Coast Guard cutters Comanche, Escanaba (both 165 feet), and Tampa (240 feet).[1]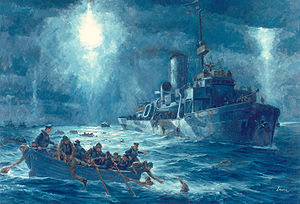 On the night of 3 February 1943, Dorchester was torpedoed by German U-boat U-223. The damage was severe, boiler power was lost, there was inadequate steam to sound the full 6-whistle signal to abandon ship, and Dorchester sank by the bow in about 20 minutes. Loss of power prevented the crew from sending a radio distress signal, and no rockets or flares were launched to alert the escorts. A severe list prevented launch of some port side lifeboats, and some lifeboats capsized through overcrowding. Survivors in the water were so stiff from cold they could not even grasp the cargo nets on rescue vessels. The crew of the Escanaba employed a new "retriever" rescue technique whereby swimmers clad in wet suits swam to victims in the water and secured a line to them so they could be hauled onto the ship. By this method, Escanaba saved 133 men (one died later) and Comanche saved 97 men of the 904 aboard Dorchester.[2]
Life jackets offered little protection from hypothermia, which killed most men in the water. Water temperature was Template:Convert/LoffAoffDbSoffT and air temperature was Template:Convert/LoffAoffDbSoffT. When additional rescue ships arrived on 4 February "hundreds of dead bodies were seen floating on the water, kept up by their life jackets."[3]
The American writer Jack Kerouac served on the Dorchester, where he befriended an African-American cook named Old Glory. He would have been on the sinking ship but for a telegram he received from coach Lou Little, asking him to return to Columbia University to play football.[4]
Dorchester is best remembered today for the Four Chaplains who gave up their life jackets and went down with her. In 1948 the US Postal Service issued a stamp to commemorate the sinking.
The Four Chaplains' Medal was established by act of Congress on July 14, 1960, and was presented posthumously to their next of kin by Secretary of the Army Wilber M. Brucker at Ft. Myer, Virginia on January 18, 1961 [5].
References
Coordinates: 59°22′N 48°42′W / 59.367°N 48.7°W / 59.367; -48.7