USC&GS Pioneer (OSS 31)
From SpottingWorld, the Hub for the SpottingWorld network...
USC&GS Pioneer (OSS 31) was a survey ship that served in the United States Coast and Geodetic Survey from 1946 to 1966. She was the third ship of the Coast and Geodetic Survey to bear the name.
Pioneer was laid down as the United States Navy seaplane tender USS Mobjack (AVP‑27), by Lake Washington Shipyard at Houghton, Washington, on 25 February 1942 and launched on 2 August 1942. Mobjack was reclassified as a motor torpedo boat tender and redesignated AGP‑7 on 11 March 1943 and commissioned as such on 17 October 1943.
During World War II, Mobjack served in the Solomon Islands, in the Treasury Islands, in the New Guinea campaign, at Morotai, in the Philippines campaign, and off Borneo. After the war, she served in the Philippine Islands before decommissioning on 21 August 1946.
United States Coast and Geodetic Survey career
The U.S. Navy transferred Mobjack to the U.S. Department of Commerce on 21 August 1946, the same day the Navy had decommissioned her. Disarmed, modified, and renamed USC&GS Pioneer (OSS 31), she entered service as a survey ship in the United States Coast and Geodetic Survey that year.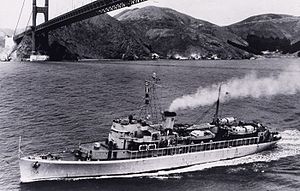 Pioneer spent her Coast and Geodetic Survey career on duties in the Pacific Ocean. In August 1955, she received the first marine magnetometer, a towed magnetometer which Victor Vacquier of Scripps Institution of Oceanography had developed while conducting surveys for the U.S. Navy off the coast of California. She employed this magnetometer on a survey from Point Conception, California, to Cape Flattery, Washington, which went down in history as "The Pioneer Survey." Her work with the magnetometer led to the collection of data which allowed the discovery of magnetic striping on the floor of the Pacific, and this proved to be a major discovery in the development of the theory of plate tectonics.
In 1964, Pioneer became the first U.S. Coast and Geodetic Survey vessel to operate in the Indian Ocean when she participated in the International Indian Ocean Expedition.
Final disposition
Pioneer was sold for scrap on 4 May 1966 to National Metal and Steel Corporation, Terminal Island, California.
Commemoration
Two geographic features on the floor of the Pacific Ocean, the Pioneer Fracture Zone and Pioneer Ridge, are named for Pioneer.
References