USNS Joshua Humphreys (T-AO-188)
From SpottingWorld, the Hub for the SpottingWorld network...
300px
USNS Joshua Humphreys (T-AO-188) underway in reverse during sea trials, February 1987
Career (USA)
Namesake:
Joshua Humphreys
Ordered:
20 January 1983
Builder:
Avondale Shipyard
Laid down:
17 December 1984
Launched:
22 February 1986
In service:
3 April 1987-29 June 1996 and 23 February 2005-1 October 2006
Out of service:
29 June 1996-23 February 2005 and 1 October 2006
Status:
Inactive Reserve Fleet, Philadelphia, PA.
General characteristics
Class and type:
Henry J. Kaiser-class oiler
Type:
Fleet replenishment oiler
Tonnage:
31,200 deadweight tons
Displacement:
9,500 tons light
Full load variously reported as 42,382 tons and 40,700 long tons (41,353 metric tons)
Length:
677 ft (206 m)
Beam:
97 ft 5 in (29.69 m)
Draft:
35 ft (11 m) maximum
Installed power:
16,000 hp (11.9 MW) per shaft
34,442 hp (25.7 MW) total sustained
Propulsion:
Two medium-speed Colt-Pielstick PC4-2/2 10V-570 diesel engines, two shafts, controllable-pitch propellers
Speed:
20 knots (37 km/hr)
Capacity:
178,000 to 180,000 barrels of fuel oil and jet fuel
7,400 square feet dry cargo space; eight 20-foot refrigerated containers with room for 128 pallets
Complement:
103 (18 civilian officers, 1 U.S. Navy officer, 64 merchant seamen, 20 U.S. Navy enlisted personnel)
Armament:
Peacetime: none
Wartime: probably 2 x 20-mm Phalanx CIWS
Aircraft carried:
None
Aviation facilities:
Helicopter landing platform
Notes:
Five refueling stations
Two dry cargo transfer rigs
USNS Joshua Humphreys (T-AO-188) is a Henry J. Kaiser-class fleet replenishment oiler of the United States Navy. She was named for Joshua Humphreys, who designed the six original US Navy frigates.
Construction and delivery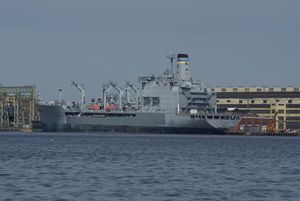 Joshua Humphreys, the second ship of the Henry J. Kaiser class, was specially built for the Military Sealift Command (MSC). She was laid down at Avondale Shipyard, Inc., at New Orleans, Louisiana, on 17 December 1984 and launched on 22 February 1986. She entering non-commissioned U.S. Navy service with a primarily civilian crew on 3 April 1987.
Service history
1987-1996
Joshua Humphreys served in the United States Atlantic Fleet under MSC control until taken out of active service on 29 June 1996, the second ship of her class to be deactivated. She was subsequently berthed at the Naval Inactive Ship Maintenance Facility (NISMF) at the site of the former Philadelphia Navy Yard in Philadelphia, Pennsylvania, and placed in reserve.
This section requires expansion with:
history for 1987-1996.
2005-2006
Joshua Humphreys was reactivated on 23 February 2005. She was deactivated again on 1 October 2006, and again placed in reserve at the Philadelphia facility, where she is moored in the Delaware River.
This section requires expansion with:
history for 2005-2006.
2010
In March 2010 Atlantic Marine in Philadelphia was awarded a USD12.8 miliion contract for the reactivation of the Joshua Humphreys. From May 2010 the ship is to join the US Fifth Fleet in support of counter-piracy and counter-terrorism operations in the Indian Ocean and Gulf area.[1]
References
External links
Coordinates: 39°53′07″N 75°10′54″W / 39.88528°N 75.18167°W / 39.88528; -75.18167