USNS Lawrence H. Gianella (T-AOT-1125)
From SpottingWorld, the Hub for the SpottingWorld network...
Career
Name:
USNS Lawrence H. Gianella
Builder:
American Ship Building Company, Tampa, Florida
Launched:
1985
In service:
22 April 1986
Status:
in active service, as of 2023
General characteristics
Displacement:
39,624 long tons (40,260 t) full
Length:
615 ft (187 m)
Beam:
90 ft (27 m)
Draft:
24 ft 8 in (7.52 m)
Propulsion:
1 × 5-cylinder Sulzer 5RTA 76 diesel engine, 18,400 hp (13.7 MW), 1 shaft
Speed:
16 knots (30 km/h; 18 mph)
Capacity:
237,766 bbls
Complement:
24 contract mariners
Armament:
None
USNS Lawrence H. Gianella (T-AOT-1125) is a United States Military Sealift Command product tanker which typically carries diesel, gasoline, and JP5 (jet fuel). Its reinforced bow allows it to occasionally make the yearly fuel delivery to McMurdo Station in Antarctica.
Name origin
The vessel is named for Radio Operator Laurence H. Gianella who was posthumously awarded the Merchant Marine Distinguished Service Medal in 1943 for the heroic action he undertook when his ship was torpedoed on 19 December, 1941 in mid-Pacific. Orders had been given to abandon the rapidly sinking ship but Gianella - realizing that his shipmates chances of rescue were slim and dependent on him getting out an SOS message - stayed on board and rigged an emergency radio set, thus sacrificing himself for his shipmates.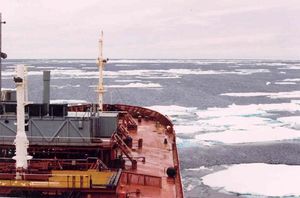 External links

Wikimedia Commons
has media related to:
[[Commons: Category:IMO 8314158
| IMO 8314158
]]