USS Coronet (SP-194)
From SpottingWorld, the Hub for the SpottingWorld network...

USS Coronet in an icy port sometime between 1917 and 1919.
Career (United States)
100x35px
Name:
USS Coronet
Namesake:
Previous name retained
Completed:
1905
Acquired:
20 July 1917
Commissioned:
24 September 1917
Struck:
5 August 1919
Fate:
Sold 5 August 1919
Notes:
Operated as private motorboat Coronet 1905-1917
General characteristics
Type:
Patrol vessel
Length:
90 ft (27 m)
Beam:
14 ft (4.3 m)
Draft:
4 ft 1 in (1.24 m)
Speed:
13 knots
Complement:
12
Armament:
1 x 3-pounder gun
USS Coronet (SP-194) was an armed motorboat that served in the United States Navy as a patrol vessel from 1917 to 1919.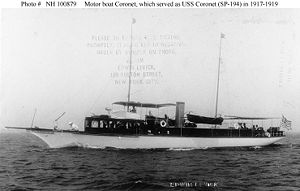 Coronet was built as a civilian motorboat in 1905 at Morris Heights, New York. The U.S. Navy acquired her on 20 July 1917 for use as a patrol boat during World War I. She was commissioned on 24 September 1917 as USS Coronet (SP-194) with Ensign J. R. Smith, USNRF, in command.
Coronet was assigned to the 3rd Naval District, where she performed patrol duty for the remainder of World War I.
On 5 August 1919, Coronet was stricken from the Navy List and sold.
References