USS Minnemac II (SP-202)
From SpottingWorld, the Hub for the SpottingWorld network...

Minnemac II in an civilian use sometime between 1914 and 1917, prior to her U.S. Navy service as USS Minnemac II.
Career (United States)
100x35px
Name:
USS Minnemac II
Namesake:
Previous name retained
Builder:
George Lawley and Sons, Neponset, Massachusetts
Completed:
1914
Acquired:
7 May 1917
Commissioned:
5 July 1917
Fate:
Returned to owner 13 January 1919
Notes:
Operated as civilian motorboat Minnemac II 1914-1917 and from 1919
General characteristics
Type:
Patrol vessel
Tonnage:
78 gross tons
Length:
78 ft 4 in (23.88 m)
Beam:
14 ft 6 in (4.42 m)
Draft:
5 ft (1.5 m)
Speed:
13 knots
Complement:
9
Armament:
1 x 3-pounder gun
2 x machine guns
USS Minnemac II (SP-202) was a United States Navy patrol vessel in commission from 1917 to 1919.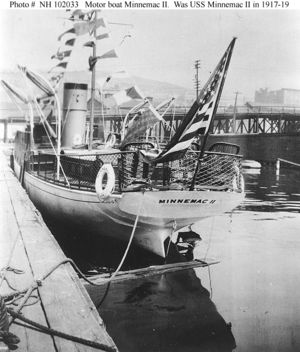 Minnemac II was built as a civilian motorboat of the same name in 1914 by George Lawley and Sons at Neponset, Massachusetts. The U.S. Navy acquired her under a free lease from her owner, Arthur J. Eddy of Chicago, Illinois on 7 May 1917 for World War I service as a patrol vessel. She was enrolled in the Naval Defense Reserve Force on 3 July 1917 and commissioned as USS Minnemac II (SP-202) on 5 July 1917 with Ensign Jerome Eddy, USNRF, in command.
Assigned to the Great Lakes, Minnemac II patrolled the waters of Lake Michigan out of her assigned section patrol base.
Following the end of World War I, Minnemac II was returned to her owner on 13 January 1919.
References