USS Pawtucket (YT-7)
From SpottingWorld, the Hub for the SpottingWorld network...

Pawtucket in 1899
Career
100x35px
Name:
USS Pawtucket
Ordered:
3 March 1897
Builder:
Mare Island Navy Yard, California
Laid down:
22 July 1898
Launched:
17 November 1898
Decommissioned:
13 December 1946
Reclassified:
YT-7, 17 July 1920
YTM-7, 15 May 1944
Homeport:
Puget Sound Navy Yard
Fate:
Sold and scrapped, 1947
General characteristics
Type:
Tugboat
Displacement:
225 long tons (229 t)
Length:
92 ft 6 in (28.19 m)
Beam:
21 ft 1 in (6.43 m)
Draft:
8 ft 9 in (2.67 m)
Propulsion:
Steam, single screw
Speed:
12.2 knots (22.6 km/h; 14.0 mph)
Complement:
9 (orig.)
16 (World War II)
Armament:
• 3 × 1-pounder guns (orig.)
• 1 × single 20 mm AA (World War II)
USS Pawtucket (Harbor Tug No. 7/YT-7/YTM-7), was a district harbor tug serving in the United States Navy in the early 20th century, during both World War I and World War II. This was the first of two US Navy namesakes of the city of Pawtucket, Rhode Island, and the Native American tribe bearing the same name.
Service history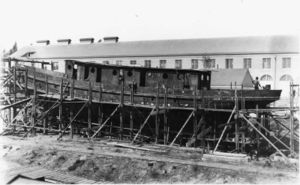 Pawtucket was ordered on 3 March 1897, laid down at Mare Island Navy Yard in California on 22 July 1898, and launched on 17 November 1898. The 19th century designation "Harbor Tug No.7" was officially replaced with "YT-7" (District harbor tug) on 17 July 1920.
Pawtucket's entire career was spent on the Pacific coast, active in the 13th Naval District, the Puget Sound Navy Yard being her permanent base for more than thirty years. During World War II she was armed with a single 20 mm gun and served as a patrol craft and minesweeper in the Puget Sound area, with an increased complement of 16. Pawtucket was redesignated "YTM-7" on 15 May 1944.
At the war's end, Pawtucket was declared surplus, placed out of service on 13 December 1946, and transferred to the Maritime Commission. She was then sold to the Northeast Merchandising Service, which operated her briefly in Puget Sound before scrapping her in 1947.
Personnel
References
External links