USS Varuna (1861)
From SpottingWorld, the Hub for the SpottingWorld network...

USS Varuna
Career (US)
Union Navy Jack 100x35px
Builder:
Mallory Yard, Mystic, Connecticut
Laid down:
January or early February 1861
Launched:
September 1861
Acquired:
31 December 1861 at New York City
Commissioned:
circa February 1862
Out of service:
24 April 1862
Struck:
1862 (est.)
Fate:
sunk in action 24 April 1862
General characteristics
Displacement:
1,300 tons
Length:
218 ft (66 m)
Beam:
34 ft 8 in (10.57 m)
Depth of hold:
18 ft 3 in (5.56 m)
Propulsion:
steam engine
screw-propelled
Speed:
not known
Complement:
not known
Armament:
eight 8" guns
two 30-pounder Parrott rifles
USS Varuna (1861) was a heavy (1,300 ton) steam-powered ship acquired by the Union Navy during the early days of the American Civil War. She was outfitted with powerful 8-inch guns and assigned, as a gunboat, to the Union blockade of the waterways of the Confederate States of America.
Built in Connecticut
Varuna, the first U.S. Navy ship to bear the name, was originally intended for merchant service between New York City and New Orleans, Louisiana. She was laid down in late January or early February 1861 at the Mallory Yard, Mystic, Connecticut; launched there in the following September; and purchased by the Navy at New York City on 31 December of that same year.
Civil War service
Joining the Union blockade
On 10 February 1862, she was ordered to remain in New York until Monitor was ready for action so that she might escort the new ironclad from New York to Hampton Roads, Virginia, to protect the wooden-hulled Union blockaders there from the Southern armored ram, CSS Virginia.
However, these orders were revoked later that same day; and Varuna was assigned to the newly established West Gulf Blockading Squadron. En route south late in February, Varuna put into Port Royal, South Carolina, for repairs, where the ship's commanding officer, Commander Charles S. Boggs, assumed temporary command of the harbor on 24 February during Flag Officer Samuel F. Du Pont's absence. The gunboat finally joined Rear Admiral David G. Farragut's West Gulf Blockading Squadron on 6 March.
Mississippi River operations
On 24 April 1862, Varuna was with the squadron during Farragut's daring nighttime dash past Confederate works guarding the Mississippi below New Orleans -- Fort Jackson and Fort St. Philip.
Varuna sunk in action
At the height of the melee, Varuna was rammed twice by the steamer CSS Governor Moore and struck twice again immediately thereafter by the cottonclad ram CSS Stonewall Jackson. After striking Varuna, Lt. Beverly Kennon, CSN in command of one of the Confederate warships, Governor Moore -- found himself unable to depress his guns far enough to fire upon the Union vessel; and so he shot through the bow of his own ship and used the resulting hole as a gun port. Although fatally damaged, Varuna backed off from the Confederate vessels and continued to subject them to a withering fire until rising water silenced her guns. Eight sailors of the Varuna received the Medal of Honor for their actions during the battle: Seaman Thomas Bourne, Landsman Amos Bradley, Captain of the Forecastle John Greene, Third Class Boy George Hollat, Seaman William Martin, Quartermaster John McGowan, Coxswain William McKnight, and Second Class Boy Oscar E. Peck.[1][2]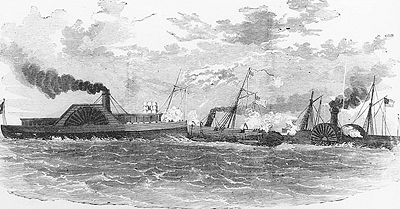 Varuna honored with a poem
Rear Admiral Farragut's stunning victory at and subsequent capture of New Orleans itself electrified the North. Varuna's part in the Union triumph was soon commemorated in George H. Bowker's poem, The Varuna, which appeared in the Philadelphia Press on 12 May.
References
This article includes text from the public domain Dictionary of American Naval Fighting Ships. The entry can be found here.