Braemar (ship)
From SpottingWorld, the Hub for the SpottingWorld network...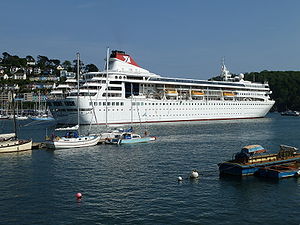 The Braemar (formerly Crown Dynasty, Cunard Crown Dynasty, Crown Majesty and Norwegian Dynasty) is a cruise ship, currently operating with Fred. Olsen Cruise Lines.
History
The vessel was constructed in 1993 for Crown Cruise Line, operating under the name Crown Dynasty. Between 1993 and 1997, the vessel was also charted by Cunard Line, who would name the ship Cunard Crown Dynasty while under their flag.
In 1997, the vessel was transferred to Majesty Cruise Line, who renamed her Crown Majesty. This only lasted until the end of 1997, when the vessel was transferred again; this time to Norwegian Cruise Line, who renamed the vessel Norwegian Dynasty.
The vessel returned to her original fleet and name in 1999, but was sold to Fred. Olsen Cruise Lines in 2001, where the vessel currently operates under the name Braemar. Her sister ship, the former Crown Jewel operated until 2008 as the SuperStar Gemini for Star Cruises.[1]
Sightings
21 May 2010: Dartmouth, Devon, UK. Braemar is so large that she had to enter Dartmouth harbour stern first, with one tug to assist. She left the same evening with the tug in attendance, but not assisting, nor with any lines attached. That says a lot about the ship and the Dartmouth Pilot.
<googlemap version="0.9" lat="50.351868" lon="-3.574988" zoom="17" width="500" controls="large"> 50.350985, -3.574988 Braemar in Dartmouth </googlemap>
Videos
Gallery
<flickr>MV Braemar</flickr>
Capacity
Cabins 510 Passengers 987 Standard occupancy Crew 400
References
External links