Hawaiian Chieftain
From SpottingWorld, the Hub for the SpottingWorld network...
300px
Hawaiian Chieftan participating in the 2008 Tacoma Tall Ships Festival
Career (United States)
Name:
Hawaiian Chieftain
Operator:
Grays Harbor Historical Seaport Authority
Builder:
Lahaina Welding Co.
Laid down:
1988, Lahaina, Hawaii
Homeport:
Aberdeen, Washington
Notes:
Designed by Richard R. Richards
General characteristics
Type:
Square Topsail Ketch
Displacement:
64 tons
Length:
103 ft (31 m) sparred length
65 ft (20 m) on deck
62 ft (19 m) at waterline
Beam:
22 ft (7 m)
Height:
75 ft (23 m)
Draft:
5.5 ft (1.7 m)
Notes:
Sail area is 4,200 sq ft (390 m2)
Steel hull
Hawaiian Chieftain is the name of a sailing vessel briefly known as the Spirit of Larinda. Built in 1988 in Lahaina on the island of Maui, the Hawaiian Chieftain is a contemporary interpretation of a traditional design. She is unique with the rig of an 19th century trading vessel and a modern triple keel, shallow draft hull. Drawing only 5.5 feet (1.7 m), she is highly maneuverable in shallow waters.[1]
She was based in Sausalito, CA for many years, sailing up and down the coast with the Lady Washington on Voyages of ReDiscovery, providing hands-on history programs teaching 4th and 5th graders about the exploration and trade along the West Coast in the 1790s.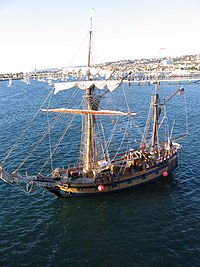 In the winter of 2004, she was sold to a Cape Cod sailing program and renamed the Spirit of Larinda; however, due to the suicide of her owner, she remained inactive. In October 2005, the Grays Harbor Historical Seaport Authority, owner of Lady Washington, purchased her to add to their fleet. Returning to her original identity as the Hawaiian Chieftain, she joined up with the Lady Washington on February 25, 2006 and is now providing joint education and sail training up and down the west coast of the United States. [2]
See also
References
External links