Hornet (clipper)
From SpottingWorld, the Hub for the SpottingWorld network...
Hornet was an 1851 extreme clipper in the San Francisco trade, famous for its race with Flying Cloud.
Race with Flying Cloud
Hornet had a two day head start on the Flying Cloud in their famous 1853 race. She left New York for San Francisco, April 26, 1853, with the Flying Cloud departing two days later.
After the roughly 15,000 mile voyage around Cape Horn, both ships arrived in San Francisco harbor 106 days later at almost the same time, with Hornet sailing in just 45 minutes ahead of the Flying Cloud.
Voyages
In 1866, Hornet took a cargo of candles, case oil, and oil in barrels from New York to San Francisco under Captain Josiah A. Mitchell.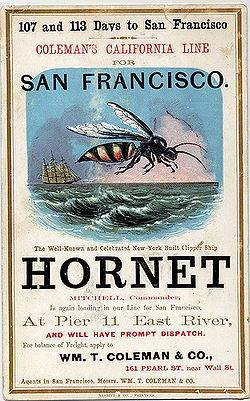 Loss of the ship
Hornet caught fire and sank on May 3, 1866. The crew left the ship in three boats. The captain's boat reached Hawaii on June 15, 1866, but the two other boats disappeared.[2]
References