MV The Second Snark
From SpottingWorld, the Hub for the SpottingWorld network...
MV The Second Snark is a small passenger ferry, built in 1938 by William Denny of Dumbarton, now providing cruises on the Firth of Clyde, Scotland.
History
MV The Second Snark was built in 1938 for use at William Denny's Dumbarton shipyard as a tug and tender, replacing their previous steam driven vessel The Snark. From 1960 to 1963 Denny's used The Second Snark for summer cruises on the Firth of Forth, returning to the Clyde in winter. The company went into liquidation in 1963, and the ship was taken over by Brown Bros, who continued Forth cruises initially while concentrating mainly on research work for ship stabilisers. When the research project was completed in 1969, they sold The Second Snark to Clyde Marine Motoring.
She is listed as a National Historic Ship.[1]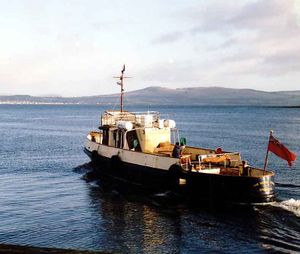 Layout
Although The Second Snark is a fairly small vessel, Clyde Marine Services Ltd show her Passenger Capacity as 120, restricted to 60-80 if full onboard catering is required. She still retains many original features including teak decks, varnished woodwork and polished brass. Two underdeck heated saloons, one with a bar, contribute to her continuing popularity as a cruise boat and charter vessel from April to September, particularly for "booze cruises".
Service
Since 1969, The Second Snark has been based at Victoria Harbour or Princes Pier, Greenock, providing cruises on the Firth of Clyde under the Clyde Marine Cruises section of Clyde Marine Services Ltd. She currently concentrates on providing cruises from Greenock and Helensburgh to Blairmore (for Benmore Botanic Garden) and into Loch Long.[2] She has provided trips to Lochranza (Arran) via Rothesay and the Kyles of Bute and to Largs and Millport.[3] She occasionally serves on the Gourock – Kilcreggan – Helensburgh ferry service, substituting for the 1936 MV Kenilworth (now MV Seabus).
Footnotes
External links