NOAAS McArthur II (R 330)
From SpottingWorld, the Hub for the SpottingWorld network...

NOAAS McArthur II (R 330) sometime between 2003 and 2009
Career (United States)
60px
Name:
McArthur II
Namesake:
William Pope McArthur (1814-1850), a United States Coast Survey officer who pioneered hydrographic survey work on the United States West Coast
Builder:
Tacoma Boatbuilding Company, Tacoma, Washington
Laid down:
26 January 1985
Launched:
16 July 1985
Completed:
26 November 1985
Acquired:
9 December 2002
Commissioned:
20 May 2003
Homeport:
Seattle, Washington
Nickname:
"Big Mac"[1]
Status:
Active in NOAA Pacific Fleet
Notes:
Served in U.S. Navy Military Sealift Command as ocean surveillance ship USNS Indomitable (T-AGOS-7) 1985-2002
General characteristics
Type:
ex-U.S. Navy Stalwart-class oceanographic research ship
Tonnage:
1,486 gross register tons; 786 deadweight tons
Displacement:
1,650 tons (light)
2,301 tons (full load)
Length:
224 ft (68 m)
Beam:
43 ft (13 m)
Draft:
15 ft (4.6 m)
Installed power:
1,600 horsepower (2.1 megawatts)
Propulsion:
Diesel-electric: Two General Electric 800-horsepower (1.1-megawatt) diesel engines, twin fixed-pitch propellers, 224,000 gallons fuel; 550-horsepower (0.74-megawatt) General Electric Harbor Master bow thruster
Speed:
10.5 to 11 knots (sustained)[2]
Range:
8,000 nautical miles (14,816 kilometers)
Endurance:
30 or 45 days[3]
Boats and landing
craft carried:
One 24-foot (7.3-meter) Zodiac rigid-hulled inflatable boat (RHIB); one 21-foot (6.4-meter) Zodiac RHIB
Complement:
Either 22 (5 officers, 4 licensed engineers, and 13 other crew) or 24 (4 officers, 3 licensed engineers, and 17 other crew)[4] plus up to either 15 scientists on domestic voyages or up to 14 scientists plus a Public Health Service during international voyages; or 21 (5 officers, 3 licensed engineers, and 13 other crew, plus 10 to 15 scientists[5]
Sensors and
processing systems:
One Furuno X-band radar, one Furuno S-band radar, both for navigation and collision avoidance; two depth sounders; a Furino Automated Identification System; several Global Positioning System receivers; Speery MK227 gyrocompass
Notes:
600 kilowatts electrical power; 250-kilowatt emergency generator
NOAAS McArthur II (R 330)[6] is an oceanographic research ship in National Oceanic and Atmospheric Administration (NOAA) service since 2003.
Construction, acquisition, and commissioning
McArthur II was laid down as the United States Navy Military Sealift Command Stalwart-class ocean surveillance ship USNS Indomitable (T-AGOS-7) on 26 January 1985 by the Tacoma Boatbuilding Company at Tacoma, Washington, and launched on 16 July 1985. Indomitable entered service on 1 December 1985 and was retired and stricken from the Naval Vessel Register on 2 December 2002.
On 9 December 2002, Indomitable was transferred to NOAA. After conversion into an oceanographic research ship, she was commissioned into NOAA service as NOAAS McArthur II (R 330) at the NOAA Marine Operations Center at Seattle, Washington, on 20 May 2003, replacing the NOAA survey ship NOAAS McArthur (S 330), which was decommissioned in a combined ceremony the same day.
Capabilities
McArthur II has berthing for 38 people in 18 single staterooms, eight double staterooms, and one quadruple stateroom, providing her with the capacity to carry up to 15 scientists on domestic voyages or up to 14 scientists and a Public Health Service officer on international voyages. She can seat 16 people at a time in her crew's mess.
McArthur II has a wet laboratory freezer, a dry laboratory freezer, and an oceanographic laboratory refrigerator. On deck, she has a 2.3-ton-capacity deck crane with a boom that extends to 46 feet (14 meters), two oceanographic winches, a movable A-frame, and a movable J-frame. She carries one 24-foot (7.3-meter) and one 21-foot (6.4-meter) Zodiac rigid-hulled inflatable boats (RHIB).
Career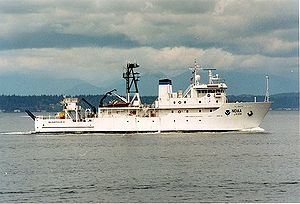 McArthur II departed on her maiden NOAA cruise on 1 June 2003 from Seattle. She conducts oceanographic research and assessments, throughout the eastern Pacific Ocean, including along the United States West Coast -- where is involved in studies in several National Marine Sanctuaries -- and the Pacific coast of Central America and South America. She engages in measurements of chemical, meteorological, and biological sampling for several large scale programs within NOAA, and the scientists who carry out research aboard her come from many divisions of NOAA, as well as other United States Government agencies, U.S. state government agencies, and academia.
Notes
References
Wertheim, Eric, ed. The Naval Institute Guide to Combat Fleets of the World, 15th Edition: Their Ships, Aircraft, and Systems. Annapolis, Maryland: United States Naval Institute Press, 2007. ISBN 978-1-59114-955-2. ISSN 1057-4581.