Pacific Sun (ship)
From SpottingWorld, the Hub for the SpottingWorld network...
300px
Pacific Sun at Darling Harbour, Sydney, Australia
Career
Name:
1986–2004: Jubilee
2004 onwards: Pacific Sun
Operator:
1986–2004: Carnival Cruise Lines
2004 onwards: P&O Cruises Australia
Port of registry:
1986–1996: Monrovia, 22x20px Liberia
1996–2000: Panama City, 22x20px Panama[1]
2000-2004: Nassau,  Bahamas[2]
2004 onwards: London,  United Kingdom[2]
Builder:
Kockums Varv, Malmö, Sweden[2]
Cost:
$134 million[2]
Launched:
26 October 1985[1]
Acquired:
June 1986[1]
Maiden voyage:
July 1986[2]
In service:
6 July 1986[1]
Identification:
IMO number: 8314122[1]
Status:
In service
General characteristics
Class and type:
Holiday class cruise ship
Tonnage:
gross tonnage (GT) of 47,262 tons[2]
Displacement:
6,405 metric tons deadweight (DWT)
Length:
223.4 m (732 ft 11 in)[2]
Beam:
28.2 m (92 ft 6 in)[2]
Draft:
7.5 m (24 ft 7 in)[2]
Decks:
10 passenger decks[2]
Installed power:
2×7 cylinder Sulzer diesels, combined 23520 kW[1]
Propulsion:
Two propellers[2]
Speed:
21.7 kn (40.19 km/h; 24.97 mph)[1]
Capacity:
1,486 passengers[2]
Crew:
670[2]
The MS Pacific Sun is a Holiday class cruise ship operated by P&O Cruises Australia. She was built in 1986 by Kockums Varv, Malmö, Sweden for Carnival Cruise Lines as MS Jubilee. At 47,000-tons, the Pacific Sun is a medium sized ship, accommodating up to 1,900 passengers from Australia and/or New Zealand. Pacific Sun currently operates cruise itineraries to the South Pacific and Queensland. She is currently based out of Brisbane. After receiving a muti-million dollar makeover she is currently sailing in all white colours, like P&O's other ships, along with new amenities[3]
Background
The vessel was constructed for Carnival Cruise Lines and entered operation in 1986 as Jubilee. Jubilee was one of three Holiday class ships constructed for Carnival, along with near-sister ships Holiday and Celebration. In 2004, the vessel was transferred to P&O Cruises Australia, and was renamed Pacific Sun.
Cruising Program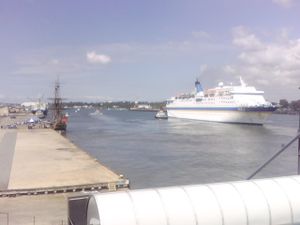 Pacific Sun arrived in Australia in November 2004, and began year-round cruises from Sydney to the South Pacific and tropical north Queensland. Pacific Sun's relocation to Brisbane has seen her become the largest year-round liner ever to be based in Queensland.
Videos
Gallery
Pacific Sun Wharf8.jpg

The Pacific Sun docked at Wharf 8, Sydney

Pacific Sun Alongside VilaVanuatu.jpg

The Pacific Sun docked at Port Vila, Vanuatu

Pacific Sun-Rear.jpg

The stern of the Pacific Sun whilst docked at Port Vila, Vanuatu

Pacific Sun Champagne Bay.jpg

The Pacific Sun anchored at Champagne Bay, Vanuatu

Pacific Sun Mystery Island.jpg

The Pacific Sun anchored at Mystery Island, Vanuatu

Pacific Sun Pool-Midships.jpg

The Lido Pool and two-storey waterslide(removed after recent refit)

Pacific Sun Aft Deck.jpg

The aft deck and Outback Pool
References
External links