Ocean Village (ship)
From SpottingWorld, the Hub for the SpottingWorld network...
For other ships with the same name, see Arcadia (disambiguation).

Ocean Village at anchor in Dominica - 31/12/2008
Career
Name:
Ocean Village (2003-On)
Arcadia (1997-2003)
Star Princess (1989-1997)
FairMajesty (1988)
Owner:
Ocean Village (2003-On)
P&O Cruises (1997-2003)
Princess Cruises (1989-1997)
Sitmar Cruises (Construction Only 1987-1988)
Operator:
Ocean Village (2003-On)
P&O Cruises (1997-2003)
Princess Cruises (1989-1997)
Port of registry:
 United Kingdom
Builder:
Chantiers de l'Atlantique
Launched:
1988
Completed:
1989
In service:
1989-On
Identification:
IMO number: 8611398
General characteristics
Tonnage:
63,500 GRT [1]
Length:
247 metres (811 feet)
Beam:
32 metres (105 feet)
Draught:
8.2 metres (27 feet)
Decks:
Passengers: 11
Overall: 13
Installed power:
4 Diesel electric motors
Speed:
21.5 Knots
Capacity:
1,578-1,856 Passengers
Crew:
514
Ocean Village is the sole cruise ship of the Ocean Village brand. She was built by Chantiers de l'Atlantique, at their shipyard in Saint-Nazaire, France, and launched in 1988 as Sitmar FairMajesty. Originally ordered for Sitmar Cruises, she was sold and first entered service with Princess Cruises as Star Princess in 1989. From 1997 to 2003, she served in the P&O Cruises fleet as MV Adonia. She was renamed Ocean Village in 2003 when the brand was established.[2]
History
Sitmar FairMajesty had been launched and named but was still being fitted out when Sitmar was taken over by P&O in 1988. She was subsequently renamed Star Princess when she commenced operating for P&O's Princess Cruises division in 1989. In 1997 she was transferred to P&O's Southampton based UK fleet as a replacement for SS Canberra, which was scrapped that year. Appropriately, she was refitted for her new role at Harland and Wolff, the shipyard in Belfast that built Canberra.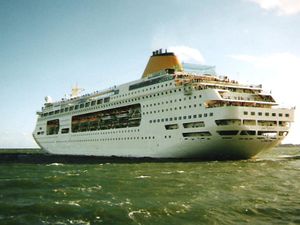 She was renamed Arcadia, in honour of an earlier P&O liner of the same name that served the UK-Australia route, and a new Princess Cruises ship took the name Star Princess.
Arcadia to Ocean Village refit
In 2003 P&O inaugurated its Ocean Village brand of cruises aimed at young people and families. The Arcadia was renamed Ocean Village to undertake these cruises, and a new ship named Arcadia entered service with P&O Cruises. Arcadia was repainted as part of the refit to Ocean Village and now features a more colorful livery featuring a vivid purple, yellow and red swoosh on the front. The whole of the ship's interior had a lighting revamp to make all areas more bright and appealing.
The library was taken away and was replaced with a gym and a nightclub called 'Bayside'. Spiral staircases linking the two levels of the theater were fitted. The casino was removed and the conference rooms removed and replaced by a bar.
As the ship was configured for buffet dining, room service no longer provided and passenger cabins serviced once daily instead of morning & evening, there was less crew accommodation required. Some crew cabins were re-allocated as passenger cabins - forming the AB grade suites (without balcony) and the NN grade twin inside cabins. The refit work was carried out between the 28th of March and the 17th of April 2003 at Lloyd Werft Bremerhaven.[1]
Ocean Village today
Ocean Village is now the only ship in the Ocean Village fleet, a brand of Carnival UK. It is aimed at mature cruisers who prefer casual informal cruising. The ship is now sailing from Bridgetown, Barbados in the winter and from Palma de Mallorca, Spain in the summer.
Onboard features include a 3-storey atrium incorporating shops, a performance space, coffee and cocktail bars. A 2-storey show lounge featuring tribute acts and dance/show routines from the onboard cast. A second smaller lounge is used for comedy and light entertainment. A traditional English Pub with occasional sports shown on TV, a nightclub, cinema, 2 swimming pools, 4 jacuzzis, a kids-club/sega Village, 2 Gyms, a sports net area and a health Spa. Food is provided in two buffet style restaurants, one of which is open 24hrs, and two waiter service restaurants for which supplements are charged.
During the transformation from Arcadia to Ocean Village, a large steel arch was fitted over the lido deck, used for acrobatic shows, for which the ship has to be slowed to around 5-8 knots.
P&O Cruises Australia
On 30 October 2008 Carnival Corporation & plc announced the closure of their Ocean Village brand. Coinciding with this both Ocean Village ships will be transferred to the fleet of P&O Cruises Australia. Ocean Village will join the P&O Australia fleet towards the end of 2010 as Pacific Pearl after completing a final European season with Ocean Village.[3][4]
References

Wikimedia Commons
has media related to:
[[Commons: Category:Ocean Village
| Ocean Village
]]
"P&O- Port Out, Starboard Home", David L. Williams, Ian Allen Publishing, 2002
Simplon Postcards site website
[1] Lloyd Werft Bremerhaven's Ocean Village Page
External links