SS Arandora Star
From SpottingWorld, the Hub for the SpottingWorld network...

The Arandora Star at anchor
Career
Name:
Arandora Star
Owner:
Blue Star Line
Port of registry:
 United Kingdom
Route:

Great Britain - South America


As a cruising liner she made voyages to Norway, Northern capitals, the Mediterranean and the West Indies among others.
Builder:
Cammel Laird & Company of Birkenhead
Yard number:
921
Launched:
1 April 1927
Completed:
May 1927
Refit:
1929 as cruise liner by Fairfield Shipbuilding & Engineering Co. Ltd., Glasgow
1936 Main mast removed and accommodation extended to poop deck
Nickname:
"The Wedding Cake" or the "Chocolate Box" due to its paint scheme.
Fate:
Torpedoed and sunk on 2 July 1940
General characteristics
Class and type:
Cruise Liner
Tonnage:

as built:

12,847 gross tons
7,815 net

after refit:

14,694 gross tons
8,578 net

Length:
512.2 ft
Beam:
68.3 ft
Height:

as built:

after refit:

Installed power:
four steam turbines by shipbuilder
Propulsion:
single reduction geared to two shafts
Speed:
16 knots
Capacity:

Passengers:

as built: 164 1st Class
as a cruise liner: 354 1st Class
SS Arandora Star was a British registered cruise ship operated by the Blue Star lines from the late 1920s through the 1930s. At the onset of World War II she was assigned as a troop transport and moving refugees. At the end of June 1940 she was assigned the task of transporting German and Italian internees along with prisoners of war to Canada. On 2 July 1940 she was sunk in controversial circumstances by a German U-boat with a large loss of life.
Construction
Initially named Arandora, she was built by Cammell Laird & Company, Limited for the Blue Star Line in 1927. As completed the Arandora measured 12,847 gross tonnage, was 512.2 feet long, a beam of 68.3 ft and accommodated 164 first class passengers. She cruised at a service speed of 16 knots. After a refit in 1929, she could accommodate 354 first class passengers, her tonnage was increased to 14,694 gross tons
Ship history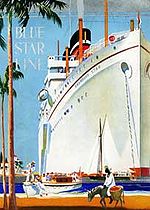 As Arandora she sailed from London to the east coast of South America from 1927 to 1928. In 1929 she was sent to Fairfield Shipbuilding & Engineering Company Ltd. of Glasgow for refitting. During the refit, her gross tonnage was increased to 14,694 and first class accommodation was increased to 354 passengers. A tennis court was also placed abaft the funnels on the boat deck, and a swimming pool was installed in the after well deck. Upon completion, she returned to service as a full-time luxury cruise ship. At the time of this refit, she was also renamed Arandora Star. The renaming was done to avoid confusion with Royal Mail Ships which typically bore names beginning and ending in 'A'.[citation needed]
As a cruise ship, the Arandora Star was based mainly in Southampton, and travelled to many different destinations. These included Norway, the Northern capitals, the Mediterranean, the West Indies, Panama, Cuba, and Florida, to name a few. The Arandora Star also had two unique nicknames because of her colour scheme of a white hull with scarlet ribbon. The nicknames most frequently used were "The Wedding Cake" or the "Chocolate Box".
At the onset of World War II, the Arandora Star was refitted and was assigned as a transport ship. She evacuated troops from Norway and from France in June 1940 before undertaking what was to be her final voyage transporting Axis nationals and prisoners of war to Canada.[1]
Sinking
On July 2 1940, having left Liverpool unescorted the day before, under the command of Edgar Wallace Moulton, she was bound for St. John's, Newfoundland and Labrador and Canadian internment camps with nearly 1,200 German and Italian internees, including 86 POWs, being transported from Britain. There were also 374 British men, comprising both military guards and the ship's crew. The Italians numbered 712 men of all ages, most of whom had been residing in Britain when Mussolini declared war on June 10. The ship was bearing no Red Cross sign, which could have shown that she was carrying prisoners, and especially civilians.
At 6.58 AM off the northwest coast of Ireland, she was struck by a torpedo from the German submarine U-47, commanded by U-Boat ace Günther Prien. It is assumed that U-47 mistook her grey wartime livery for that of an armed merchant cruiser. U-47 fired its single damaged torpedo at Arandora Star. All power was lost at once, and thirty five minutes after the torpedo impact, Arandora Star sank. Over eight hundred lives were lost.
"I could see hundreds of men clinging to the ship. They were like ants and then the ship went up at one end and slid rapidly down, taking the men with her ... ... Many men had broken their necks jumping or diving into the water. Others injured themselves by landing on drifting wreckage and floating debris near the sinking ship"

— Sergeant Norman Price[2]
At 0705 hours Malin Head radio received the distress call, which it retransmitted to Land's End and to Portpatrick. Throughout August bodies were washed up on the Irish shore. The first was 71-year-old Ernesto Moruzzi, who was found near Burtonport. Four others were found on the same day, 30 July. During August 1940, 213 bodies were washed up on the Irish Coast, 35 were from the Arandora Star. There were a further 92 unidentified, most probably from the Arandora Star. [3]
Lifeboats
The modified cruise ship carried fourteen lifeboats, of which one was immediately destroyed upon torpedo impact. Another could not be lowered off its winches, and two were damaged during their launch and thus useless. At least four of the remaining lifeboats were launched with a very small number of survivors. One other lifeboat was swamped and sank shortly after the sinking. Captain Otto Burfeind from the SS Adolph Woermann stayed aboard the sinking ship organizing the ship's evacuation until he was lost when it finally sank.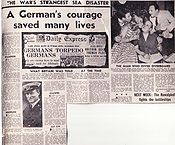 Rescue
After a brief scout by a Short Sunderland flying boat that was following their SOS distress signal, the Canadian destroyer Template:HMCS arrived to pick up the survivors. There were 586 survivors out of the 1,216 detainees. The sick were taken to Mearnskirk Hospital.
Citations
Arandora Star's Master, Edgar Wallace Moulton, was posthumously awarded the Lloyd's War Medal for Bravery at Sea, and the Canadian commander Harry DeWolf was cited for his heroism in the rescue operation, as was Captain Burfeind.
Wreckage and memorials
The wreck is located at 56°30′N 10°38′W / 56.5°N 10.633°W / 56.5; -10.633. In the weeks following the sinking many bodies of those who perished on Arandora Star were carried by the sea to various points in Ireland and the Hebrides. There are a number of memorials at places where the ill-fated passengers were eventually laid to rest.
The Scottish island of Colonsay unveiled a memorial on 2 July 2005, on the sixty-fifth anniversary of the tragedy. In the small graveyard of Termoncarragh, Belmullet Luigi Tapparo, an internee, from Edinburgh, and John Connelly a Lovat Scout lay buried, side-by-side.
On July 2, 2010 on the 70th anniversary, a new memorial was unveiled in St David's Catholic Metropolitan Cathedral, Cardiff by the Arandora Star Memorial Fund in Wales.[4]
References
Gardner, N. (2005) "Tragic Waters: The Sinking of the Arandora Star" Hidden Europe magazine, 4 September 2005, pp. 34-36.
Miller, William H., Jr. Pictorial Encyclopedia of Ocean Liners, 1860-1994. Dover Maritime Books.
Balestracci, Maria Serena (2008) Arandora Star: from Oblivion to Memory, Mup Publishers, Parma, Italy [1]. The book, with both English and Italian texts, includes rare and previously unpublished material, such as pictures related to the rescue of the Arandora Star taken in 1940 by St. Laurent's crew.
The story of the sinking and the wider context is told in Collar the Lot! How Britain Interned & Expelled its Wartime Refugees, by Peter Gillman and Leni Gillman (Quartet 1980). The book, which includes first-hand accounts from a number of survivors (Italian, German and British), provided the first full history of the sinking to be published after WW2.
W.H. Mitchell and S.A Sawyer Crusing Ships, Doubleday, 1967
External links
Coordinates: 55°20′N 10°33′W / 55.333°N 10.55°W / 55.333; -10.55