Skat (yacht)
From SpottingWorld, the Hub for the SpottingWorld network...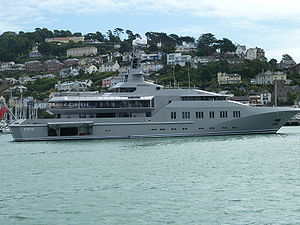 The Skat is a luxury yacht built by Lürssen of Bremen, Germany as project 9906, a number prominently displayed on the hull in a font matching that of military vessels. The project started in November 1999 and the yacht launched in 2001. The owner is Charles Simonyi, a former Software Engineer from Microsoft and the fifth space tourist. The yacht is the 64th-largest in the world with a length of 71 meters (233 feet).[1]
Simonyi once had a Danish girlfriend who called him "skat", literally "treasure" (or "tax"), but a common term of endearment similar to "honey" in English.
General specifications
Home Port: Georgetown, Cayman Islands
Length: 70.70m / 233′
Width: 13.5m / 44.3′
Draft: 3.7m / 12.1′
Displacement: 1636 metric tonne
Hull: Steel hull, aluminum superstructure
Engines: 2 × 2000 kW / 2682 hp MTU gas turbine
Cruising Speed: 15 knots
Max speed: 17 knots
One engine operation: 13 knots
Fuel: 210.000 liter (55,000 gallons)
Water: 56.000 liter (14,793 gallons)
Guests: 10
Crew: 16
Designer: Espen Oeino
Interior designer: Marco Zanini
Stylist: Espen Oeino
Features
Elevator serving all four decks
Leisure platform with Jacuzzi
A gymnasium located centrally under the mast
Helipad on the upper aft deck servicing a helicopter painted in colors matching the yacht.
Observation platform with helm control halfway up the central mast.
Two tenders
Two Jet Skis
Motorcycles and accompanying lift
The yacht can achieve a speed of 13 knots on just one engine. A cooling pump integrated into the gearboxes assures safe operation on one engine by pumping oil through the idle gearbox. The shaft of the idle engine can be disengaged, leaving the idle propeller and shaft to freewheel.
See also
Videos
Sightings
18 July 2010, Skat was moored in Dartmouth, in Devon
<googlemap version="0.9" lat="50.351868" lon="-3.574988" zoom="17" width="500" controls="large"> 50.350985, -3.574988 Skat in Dartmouth </googlemap>
Gallery
On Flickr
<flickr limit=6>MY Skat</flickr>
External links