USS Minnesota (BB-22)
From SpottingWorld, the Hub for the SpottingWorld network...
Minnesota
Minnesota
Career (United States)
100x35px
Builder:
Newport News Shipbuilding Company
Laid down:
27 October 1903
Launched:
8 April 1905
Commissioned:
9 March 1907
Decommissioned:
1 December 1921
Fate:
sold for scrap
Notes:
authorized on 3 March 1903
General characteristics
Displacement:
16,000 tons (14,500 tonnes)
Length:
456.3 ft (139.1 m)
Beam:
76.9 ft (23.4 m)
Draft:
24.5 ft (7.5 m)
Propulsion:
12 × Babcock & Wilcox boilers generating 20,570 hp;[1]
Speed:
18 kn (21 mph; 33 km/h)
Complement:
42 officers, 838 men
Armament:
4 × 12 in (300 mm)/45 cal guns, 8 × 8 in (200 mm)/45 cal guns, 12 × 7 in (180 mm)/45 cal guns, 20 × 3 in (76 mm)/50 cal guns, 12 × 3 pounders (47 mm (1.9 in)), 4 × 21 in (530 mm) torpedo tubes
USS Minnesota (BB-22), a Connecticut-class battleship, was the second ship of the United States Navy in honor of the 32nd state, and the 24th battleship of the US Navy (USS Maine was numbered in the Armored Cruiser sequence, and second-class battleship USS Texas was never numbered).
Minnesota was laid down by the Newport News Shipbuilding Company of Newport News, Virginia on 27 October 1903. She was launched on 8 April 1905 sponsored by Miss Rose Marie Schaller, daughter of Minnesota State Senator Schaller; and commissioned on 9 March 1907, Captain J. Hubbard in command.
Pre-World War I
Following her shakedown off the New England coast, Minnesota was assigned to duty in connection with the Jamestown Exposition in Jamestown, Virginia from 22 April-3 September 1907. On 16 December, she departed Hampton Roads as one of the 16 battleships sent by President Theodore Roosevelt on a voyage around the world. The cruise of the "Great White Fleet", lasting until 22 February 1909, served as a deterrent to possible hostilities in the Pacific; raised American prestige as a global naval power; and, most importantly, impressed upon Congress the need for a strong navy and a thriving merchant fleet to keep pace with the United States' expanding international interests and her far-flung possessions.
Returning from her world cruise, Minnesota resumed operations with the Atlantic Fleet. During the next three years, she operated primarily along the east coast, with one brief deployment to the English Channel. In 1912, her employment schedule began to involve her more in inter-American affairs. During the first half of that year, she cruised in Cuban waters and was stationed at Guantanamo Bay Naval Base from 7-22 June to support actions aimed at establishing order during the Cuban insurrection. The following spring and summer she cruised in Mexican waters. In 1914, she twice returned to Mexican waters - from 26 January-7 August and 11 October-19 December - as that country continued in the throes of political turmoil. In 1915, she resumed east coast operations, with occasional cruises to the Caribbean area, which she continued until November 1916, when she became flagship, Reserve Force, Atlantic Fleet.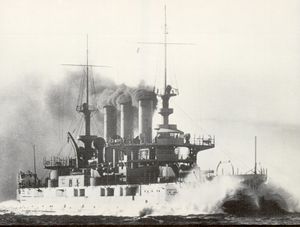 World War I
On 6 April 1917, as the United States entered World War I, Minnesota rejoined the active fleet at Tangier Sound, Chesapeake Bay, and was assigned to Division 4, Battleship Force (BatDiv 4). During the war, she was assigned as a gunnery and engineering training ship, cruising off the middle Atlantic seaboard until 29 September 1918. On that date, 20 mi (30 km) from Fenwick Island Light, she struck a mine, apparently laid by U-117. Suffering serious damage to the starboard side, but with no loss of life, she managed to reach Philadelphia, Pennsylvania, where she underwent five months of repairs. On 11 March 1919, she put back to sea as a unit of the Cruiser and Transport Force. Assigned to that force until 23 July, she completed three round trips to Brest, France to return over 3,000 veterans to the United States.
Inter-war period
Primarily employed thereafter as a training ship, Minnesota conducted two midshipmen summer cruises in 1920-1921 before being decommissioned on 1 December 1921. Struck from the Naval Vessel Register the same day, she was dismantled at the Philadelphia Navy Yard and on 23 January 1924 she was sold for scrap.
See also
References
↑

Babcock & Wilcox Company (1914), p. 203
Alden, John D. American Steel Navy: A Photographic History of the U.S. Navy from the Introduction of the Steel Hull in 1883 to the Cruise of the Great White Fleet. Annapolis, Maryland: Naval Institute Press, 1989. ISBN 0870212486
Babcock & Wilcox Company (1914). Forged Steel Water-tube Marine Boilers (1st issue, 2nd ed.). New York: Babcock & Wilcox. OCLC 2358875. http://books.google.com/books?id=fhaDAAAAIAAJ.

 

Friedman, Norman. U.S. Battleships: An Illustrated Design History. Annapolis, Maryland: Naval Institute Press, 1985. ISBN 0870217151
Reilly, John C. and Robert L. Scheina. American Battleships 1996-1923: Predreadnought Design and Construction. Annapolis, Maryland: Naval Institute Press, 1980. ISBN 0870215248
This article includes text from the public domain Dictionary of American Naval Fighting Ships. The entry can be found here.
External links

Wikimedia Commons
has media related to:
[[Commons: Category:USS Minnesota (BB-22)
| USS Minnesota (BB-22)
]]