Windermere Ferry
From SpottingWorld, the Hub for the SpottingWorld network...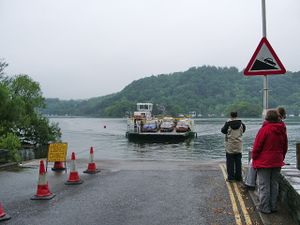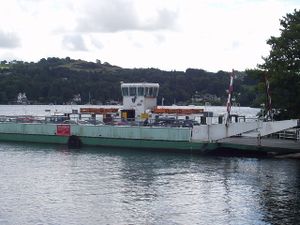 The Windermere Ferry is a vehicular cable ferry which crosses Lake Windermere in the English county of Cumbria. The route forms part of the B5285 road and crosses the lake at about its mid-point, from Ferry Nab in Bowness-on-Windermere to Far Sawrey, a distance of some 1,500 feet (460 m). The current ferry boat, named Mallard, was built in 1990 and can carry up to 18 cars and over 100 passengers.[1][2]
There has been a ferry at the site of the current Windermere Ferry for more than 500 years. The earliest craft were rowed across the lake, whilst later ferries were steam powered and, more recently, diesel powered. Today the ferry is owned by Cumbria County Council but operated on their behalf by Amey Infrastructure Services Ltd, a subsidiary of Amey plc.[1][2]
The ferry operates all year, with services every 20 minutes from early morning to mid-evening. A toll is charged. If the ferry is not operating, the alternative is a road journey of approximately 15 miles (24 km) around either the head or foot of the lake.[2]
The Ferry underwent its most recent quinqennial inspection and refit in May 2009.[3][4]
References
External links

Coordinates: 54°21′12″N 2°56′04″W / 54.353355°N 2.934551°W / 54.353355; -2.934551