HMS Charger (P292)
From SpottingWorld, the Hub for the SpottingWorld network...
300px
HMS Charger with Royal Navy Lynx Display, Northern Ireland International Airshow 2007
Career (UK)
Name:
HMS Charger
Operator:
Royal Navy
Builder:
Vosper Thornycroft
Commissioned:
1988
Status:
in active service, as of 2023
General characteristics
Class and type:
Archer class patrol vessel
Displacement:
49 tons
Length:
20.8 m (68 ft 3 in)
Beam:
5.8 m (19 ft)
Draught:
1.8 m (5 ft 11 in)
Propulsion:
2 shafts, Rolls Royce M800T diesels, 1,590 bhp
Speed:
18 knots
Range:
550 nmi (1,020 km) at 15 knots (28 km/h)
Complement:
5 (RN), 1 training officer (RNR), 12 students (URNU) or 12 (RN)
Sensors and
processing systems:
Decca 1216 navigation radar
Armament:
3 × 7.62 mm L7 GPMG (Cyprus Sqn.) (can be fitted with 20 mm cannon on fo'c'sle)
HMS Charger (P292) is an Archer-class Fast Patrol Vessel completed by Vosper Thornycroft. She is just over 20 metres long and 5.8 metres wide and powered by two Rolls-Royce turbo engines. The ship is based at the Royal Naval Headquarters (Merseyside) in Liverpool and was commissioned in 1988.
She has 4 crew plus a Commanding Officer, and sails with a Training Officer and a complement of students. She is attached to the Liverpool University Royal Naval Unit (URNU), under the command of Lt Richard Hurman RN, who is also Officer in Charge of the Unit.
Liverpool URNU
Liverpool University Royal Naval Unit (Liverpool URNU) is one of 14 URNUs in the country with the mission statement to 'educate a wide-spectrum of high calibre undergraduates and future opinion formers into the need for and role of the Royal Navy and career opportunities available within the forces'.
Liverpool URNU recruits undergraduates from the Universities of Liverpool, Lancaster and John Moores. Over 50 students attend drill evenings and other activities ashore.
Sports
Competitions are held with other university hockey, rugby and netball teams and the Unit also has a sailing team. The highlight of the sporting calendar is an inter-URNU sports weekend when the students compete against the 13 other URNUs. Liverpool URNU has fielded many successful teams, and had won the best mascot trophy in the majority of years. in 2009 Liverpool URNU came join second with Bristol URNU Overall only losing out to Wales URNU.
The students may also learn to fly in URNU flying courses or go on a Liverpool URNU organised expedition. Expeditions including skiing in Europe and mountain climbing in the UK. Recruitment for Liverpool URNU takes place each September.
Sea-time
Sea time is combined with time aboard HMS Charger at weekends, when she visits local ports such as Holyhead, Douglas and Fleetwood, and deployments during the Easter and summer holidays when she visits ports around the UK and northern Europe.
Social
There is a social calendar, with formal and informal events which include a formal mess dinner and annual ball.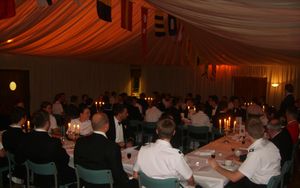 The ship is affiliated to the Cumbrian town of Maryport and regularly visits the town during deployments and for Remembrance Day ceremonies.
HMS Charger flies the White Ensign at events such as the Northern Ireland International Airshow, the start of the Clipper Round the World Yacht Race and the Honda Powerboat Championships, as well as providing a constant reassuring presence to mariners in the Irish Sea and further afield.
Gallery
Navigating into port.jpg

Navigating HMS Charger into port

Mountain ridge walk.jpg

Mountain ridge walking in Wales 2007

Glasgow.jpg

HMS Charger with HMS Biter in Glasgow 2006

Winching.jpg

A Liverpool URNU member is winched by Royal Navy Sea King Helicopter 2004

East Loch Talbert.jpg

HMS Charger with HMS Biter in East Loch Talber 2005

LURNU Sports.jpg

Liverpool URNU playing Manchester URNU at the 2007 Inter-URNU Sports Championships

Hmscharger hmstrumpeter arp.jpg

HMS Charger (on the left) with HMS Trumpeter during Bristol Harbour Festival 2004
External links