HMS Raider (P275)
From SpottingWorld, the Hub for the SpottingWorld network...

HMS Raider at Portsmouth
Career (UK)
Name:
HMS Raider
Operator:
Royal Navy
Builder:
Ailsa Shipbuilding Company
Commissioned:
January 1988
Status:
in active service, as of 2023
General characteristics
Class and type:
Archer class patrol vessel
Displacement:
54 tons
Length:
20.8 m (68 ft 3 in)
Beam:
5.8 m (19 ft)
Draught:
1.8 m (5 ft 11 in)
Propulsion:
2 × MTU V12 diesels
Speed:
24 knots
Range:
550 nmi (1,020 km) at 15 knots (28 km/h)
Complement:
5 (RN), 1 training officer (RNR), 12 students (URNU) or 12 (RN)
Sensors and
processing systems:
Decca 1216 navigation radar
HMS Raider (P275) is an Archer class patrol and training vessel of the British Royal Navy, used to fulfil the sea-training syllabus of the Cambridge University Royal Naval Unit (CURNU). Based in Ipswich, HMS Raider is used to conduct sea-training at weekends during term-time; travelling to ports on the east coast and on the continent. During the Easter and summer vacations, HMS Raider is deployed for up to 6 weeks of sea time.
Cambridge URNU
Students undergo shore-based training at weekly drill-nights held in Town Headquarters (THQ) in Cambridge. Sea-training takes place on HMS Raider at weekends during term time and on vacation deployments. Students also have opportunities to spend time on larger Royal Navy warships and naval bases, to participate in adventurous training and to gain RYA qualifications.
Cambridge URNU is affiliated with the town of Harwich, the Trafalgar-class SSN, HMS Torbay and 815 Naval Air Squadron (NAS) based at RNAS Yeovilton in Somerset. 815 NAS provides fast, agile Lynx helicopters for the Royal Navy, and is the largest helicopter squadron in the world, as well as one the oldest squadrons of the Fleet Air Arm. The Squadron operates the Mk3 and, in increasing numbers, the Mk 8 Westland Lynx. Students get regular opportunities to visit and spend time with these affiliated units.
Cambridge URNU, despite the name, serves and represents the University of East Anglia in Norwich as well as the Cambridge-based universities, Anglia Ruskin University and the University of Cambridge. Other URNUs similarly recruit from one or more universities.
HMS Raider
HMS Raider is one of sixteen 20 metre, 54 tonne P2000 patrol craft employed by the Royal Navy. She is constructed from glass-reinforced plastic (GRP). All sixteen P2000s fall within the 1PBS, with fourteen of these being affiliated with URNUs. As a Batch 2, HMS Raider has a sustainable top speed of 24 knots, but can exceed this given suitable sea conditions. Faster than her Batch 1 sister ships, HMS Raider's more powerful supercharged MTU diesels give the Cambridge URNU the ability to travel further afield when on deployments and sea-weekends.
The only other Batch 2 P2000 is HMS Tracker (P274) which is affiliated to Oxford URNU.
Crew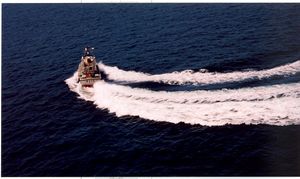 In addition to her Captain, HMS Raider has a permanent crew of four Royal Navy regulars and one Reserve Officer. When deployed, up to twelve students may be embarked in addition to one of CURNU's four Training Officers (TOs). All TOs are Lieutenants or Sub Lieutenants in the Royal Naval Reserve, with the most senior taking the title of Senior Training Officer (STO). Students in CURNU hold the rank of honorary Midshipmen and are paid at standard Navy rates.
Sightings
5 August 2010, Entering harbour and refuelling in Dartmouth, Devon
<googlemap version="0.9" lat="50.349924" lon="-3.574398" zoom="16"> 50.348158, -3.574762 HMS Raider, video on 5 August 2010 shot here </googlemap>
Videos
30 July 2009: HMS Explorer was deployed to the Scottish Western Isles in company with HMS Raider, HMS Exploit and HMS Example.
5 August 2010: Raider is entering harbour, passing astern of the Dartmouth Lower Ferry
Pictures
<flickr limit=8>HMS Raider</flickr>
External links