Costa Victoria
From SpottingWorld, the Hub for the SpottingWorld network...
| | |
| --- | --- |
| | This article needs references that appear in reliable third-party publications. Primary sources or sources affiliated with the subject are generally not sufficient for a Wikipedia article. Please add more appropriate citations from reliable sources. (December 2008) |
300px
Career
Name:
Costa Victoria
Owner:
Costa Cruises
Operator:
Costa Cruises
Port of registry:
Genoa
Builder:
Bremer Vulkan, Bremen, Germany
Completed:
1996
Status:
In Service
General characteristics
Tonnage:
76,000 GRT
Length:
828 ft (252 m)
Beam:
105.5 ft.
Decks:
12
Speed:
23 knots
Capacity:
1,928 Passengers
Crew:
766
Costa Victoria is a Sky class cruise ship owned and operated by Costa Cruises. She debuted in 1996 and was refurbished in 2004. She was designed to reflect the spirit of Italy. Features include the panoramic Concorde Plaza, an indoor pool, the ultramodern Pompei Spa, and the seven deck Planetarium Atrium. Costa Cruises ordered a sister ship for the Costa Victoria, the Costa Olympia. During the construction of the Costa Olympia, the shipyard went bankrupt and her construction was halted. The unfinished hull was subsequently sold to Norwegian Cruise Line. The ship eventually came in service as the Norwegian Sky. A third sister was built, named the Norwegian Sun.
In 2004 the ship got an extensive rebuilt, in which a total of 246 balconies were added to the accommodations (decks 9, 10 & 11) -- a first for an existing cruise ship -- along with an extension of the buffet terrace and adding promenades on Deck 11.
External links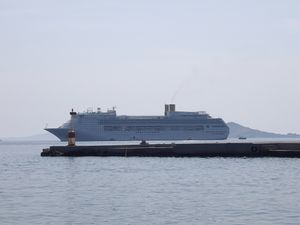 de:Costa Victoria fr:Costa Victoria it:Costa Victoria pt:Costa Victoria fi:Costa Victoria