Jubilee Sailing Trust
From SpottingWorld, the Hub for the SpottingWorld network...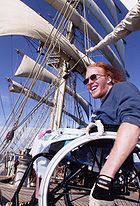 Jubilee Sailing Trust is a charitable organisation in the United Kingdom which owns and operates two square-rigged three-masted barques, the STS Lord Nelson and the SV Tenacious.
The Jubilee Sailing Trust, based in Southampton, is a sail training charity registered with the Charity Commission. Founded in 1978 with money from the Queen's silver jubilee fund by Christopher Rudd, a keen sailor, its aims are: "To integrate both able bodied and disabled persons through Tall Ship sailing".
STS Lord Nelson and SV Tenacious are pioneering in the world of tall ships. They are the only two vessels which have been designed and purpose built to allow people of all physical abilities to sail side by side on equal terms. The proportion of people who have sailed on them is over 40 per cent. Below deck is the accommodation. There are 8 wheelchair cabins with the remaining accommodation being provided by either fixed single bunks on Tenacious and traditional pipe cots on Lord Nelson.
Each year the JST takes around 2,000 adults to sea, both able-bodied and physically disabled. Each ship can sail with up to 40 voyage crew, half of whom may be physically disabled and are guided through each task on board by ten permanent crewmembers. The ships sail around the United Kingdom, Western Europe, the Canary Islands and the Caribbean.
See also
External links