MS Splendour of the Seas
From SpottingWorld, the Hub for the SpottingWorld network...
Career
Name:
Splendour of the Seas
Port of registry:
Nassau,  Bahamas
Builder:
Chantiers de l'Atlantique; Saint-Nazaire, France
Yard number:
B31[citation needed]
Launched:
17 June 1995
In service:
March 31, 1996-present
Identification:
Call sign:
C6TZ9
Status:
In Active Service as of 2010
Notes:
CDC sanitation score: 97% (2007-01-15)[1]
General characteristics
Class and type:
Vision-class cruise ship
Tonnage:
70,000 gross tons
Displacement:
35,396 metric tons
Length:
867 ft (264m)
Beam:
105 ft (32m)
Draft:
25.9 ft (7.9m)
Decks:
11
Installed power:
five Wasa Wartsilla 12V46B V12 engines
11,700 kw (15,690 hp)
Propulsion:
2 screws
Speed:
24 knots
Capacity:
2,076 passengers
Crew:
720 crew
MS Splendour of the Seas is a Vision Class cruise ship for Royal Caribbean International. Her itineraries include European cruising in the Mediterranean and Baltic along with South America and other more "exotic" locations in Royal Caribbean's worldwide destinations. Dedicated towards an international clientele, official languages on the Splendour of the Seas include English, French, German, Italian, Spanish, and Portuguese. The second in the line of Vision Class ships, she features a seven-story lobby, rock-climbing wall, and a 12-hole miniature golf course. Her sister ship is Legend of the Seas.
Ship highlights
| | |
| --- | --- |
| 40px | This article is in a list format that may be better presented using prose. You can help by converting this article to prose, if appropriate. Editing help is available. (January 2009) |
Rock-climbing wall
Glass-walled dining rooms
Themed bars and lounges
Casino
Open atrium
Theater
12-hole miniature golf course
Indoor/outdoor pool in a Solarium with a sliding roof
Outdoor pool
4 whirlpools
youth facilities
Day Spa and Fitness Center
Complimentary safes in every guest room
Layout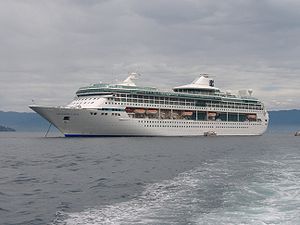 Splendour of the Seas has a total of eleven decks, the first eight of which are indoors. These decks house all the guest rooms, the theater, casino, shops, and main dining room. Decks 9 and 10 make up the outdoor portion of the ship, which includes the main pool, the rock climbing wall, and the spa and solarium with sliding roof. Deck 11 is the indoor Viking Crown Lounge atop the ship. The crew resides in quarters on Deck 1, separate from the guest facilities. The bridge is the most forward portion of deck 8, and the bridge extends out both sides of the ship several feet such that the bridge crew can walk on the extensions for an unobstructed side view. The miniature golf course is located on the aft top deck.
Electrical
As the ship services both European and North American voyages, 220-volt and 110-volt power is wired throughout the ship, with a mixture of both outlet types found in the staterooms. The 220-volt system is the primary system for the lighting.
Communications
Telephones
Splendour of the Seas has telephones installed in guest rooms, which can be used to make satellite ship-to-shore calls, or free room-to-room calls. Additionally, the ship has an onboard cellular service that supports some cellular phone networks,[2] including AT&T[3],
Internet
Internet access is available to guests on the ship both through an on board Internet café, as well as through wireless hot-spots available in several public areas of the ship and some of the guest rooms near those areas.[4] Access is available at all times, including at sea, and is charged at a rate of USD 0.60 per minute while connected, whether through a wireless hot-spot or through an Internet café computer. Prepaid blocks of minutes are also available, bringing the per-minute price to as low as USD 0.40 per minute.
Itineraries
During the winter seasons, Splendour is based in Brazil, doing a series of itineraries from 3 to 12 nights throughout South America, her summers are spent based out of Venice, Italy, sailing 7 night cruises to the Western Med.
References
External links
de:Splendour of the Seas fr:Splendour of the Seas pt:MS Splendour of the Seas