MS Voyager of the Seas
From SpottingWorld, the Hub for the SpottingWorld network...
300px
Voyager of the Seas in Toulon, France
Career
Name:
Voyager of the Seas
Owner:
Royal Caribbean International
Port of registry:
Template:BAH, Nassau
Builder:
Kvaerner Masa Yards
Cost:
US$650 million
Christened:
20 November 1999
Maiden voyage:
21 November 1999
Identification:
ABS class no:
Call sign: C6SE5
DNV ID: 19902
IMO number: 9161716
MMSI no.:
Status:
Operational
Notes:
[1]
General characteristics
Class and type:
DNV: 1A1 Passenger Ship RP LCS-SID BIS
Tonnage:
137,276 GT (gross tonnage)
Length:
311 m (1,020 ft)
Beam:
147.4 m (484 ft)
Height:
63 m (206.69 ft)
Draught:
8 m (26 ft)
Decks:
15
Propulsion:
3 x 14 MW Azipod propulsion, two azimuthing, one fixed
Speed:
23.7-knot (44 km/h; 27 mph)
Capacity:
3,138 passengers
Crew:
1,181 crew
Notes:
[2]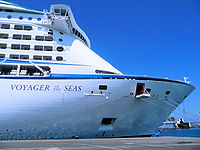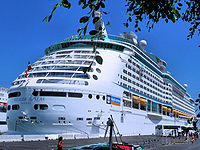 MS Voyager of the Seas, is a Voyager-class cruise ship, completed in 1999, for Royal Caribbean International. She is the namesake of Voyager-class ships.
It can handle up to 3114 guests, and, along with its sisters in the Voyager class, is one of the largest passenger ships in the world; currently, only the Cunard Line Queen Mary 2, Norwegian Epic and the Royal Caribbean International Freedom Class and Oasis Class are larger. Constructed at Aker Finnyards in Turku, Finland, the ship measures 137,276 gross tons on a 64,000 ton displacement.[1][3] It is 1,020 ft. long overall, has a waterline beam of 127 ft. and a maximum width of 156 ft (47.55 m).
On board Voyager of the Seas
Voyager of the Seas is commonly referred to as a 'Floating hotel' due to the vast range of facilities that it offers, along with some world firsts for cruise ships when the ship was released. Voyager features the world's first rock climbing wall (mounted on the funnel) and ice-skating rink at sea. During Voyager's first weeks at sea, there were doubts on how effective the ice rink would be due to the ice occasionally cracking in places due to the instability of the ship and hot ventilation pipes on the deck below, although these merely turned out to be teething troubles and today, the ice is used throughout the cruise as a public ice-skating venue and for the evening ice show.
Another innovative feature of Voyager of the Seas and another world first is the Royal Promenade which is a marble floored street stretching just over 3/4 the length of the ship and features shops and light dining venues. This area is the heart of the ship for evening activity , along with the three story high 'Lyric' theatre in which some of the latest production technology is used to produce Broadway standard production shows at night.
Almost all outward facing cabins on Voyager feature balconies as well as en-suite bathrooms and an innovative interactive television service.
Activities
Other amenities
Royal Promenade
Three-story main dining room
Restaurants such as Johnny Rockets (1950s-style) and Portofino (Italian)
Themed bars and lounges
Day spa and Fitness Center
Wedding chapel
Swimming Pools
Library
"Optix" Teen Club
"The Vault" Nightclub
Islands
The ship has several ports of call; some examples include:
References
External links

Voyager-Class.com - the largest online resource for information & pictures of the Voyager-class ships
de:Voyager of the Seas fr:Voyager of the Seas hr:MS Voyager of the Seas ja:ボイジャー・オブ・ザ・シーズ pt:MS Voyager of the Seas fi:M/S Voyager of the Seas