MV Kaitaki
From SpottingWorld, the Hub for the SpottingWorld network...
MV Kaitaki is a ROPAX ferry built in 1995. She has previously operated under the names, Isle of Innisfree, then Pride of Cherbourg, Stena Challenger and Challenger.
As of 2008, MV Kaitaki is the largest ferry providing the Interislander service between the North and South Islands of New Zealand having taken her latest name in 2007.
History
The ship was built at Van der Giessen de Noord shipyard in the Netherlands, and was launched in 1995 as the Isle of Innisfree for the Irish Ferries route between Holyhead and Dublin.[1] She remained on that route for two years before being replaced by another vessel built by Van der Giessen de Noord, the Isle of Inishmore, which offered greater passenger and vehicle capacity.[citation needed] She then moved to the Pembroke Dock - Rosslare route, replacing the 1981-built Isle of Inishturk, where she remained for four years[1] before again being replaced by the Isle of Inishmore, which herself had been replaced by the Ulysses.[citation needed] Isle of Innisfree was initially sent to Dublin for lay up and then to Le Havre, where she remained until July 2002.[1]
In 2002 the Isle of Innisfree was chartered by P&O Portsmouth and was sent to Falmouth in July of that year for refit. She emerged as the Pride of Cherbourg,[1] the third ship to carry this name. A number of extra cabins were installed on deck 7 to make her more suitable for the longer Portsmouth-Cherbourg crossing, but while in service with P&O she was often criticized for not having enough cabins compared with the vessels she replaced.[citation needed] Pride of Cherbourg entered service in September 2002,[1] replacing the second Pride of Cherbourg, and operated alongside the Pride of Hampshire until the end of the month when she was also withdrawn. P&O Portsmouth became part of P&O Ferries at the end of that year, but the Pride of Cherbourg did not receive the new colours of the company until her refit in 2004, which also removed most traces of her Irish Ferries roots, moved the club lounge to aft on deck 7 and introduced the same brand names for the facilities as on the Dover ships.[citation needed]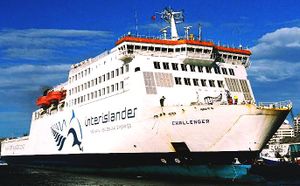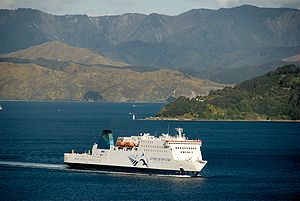 On 28 September 2004 P&O Ferries announced the withdrawal of all its Portsmouth services except to Bilbao.[citation needed] Pride of Cherbourg's last crossing for P&O was on 14 January,[1] from Cherbourg to Portsmouth. P&O subchartered her to Stena Roro as a short-term replacement for Stena Baltica, which was undergoing rebuilding work.[citation needed] Pride of Cherbourg sailed for Gdańsk, where all her exterior P&O branding was removed and she was renamed Stena Challenger. The Stena Challenger sailed on Stena Line's Karlskrona—Gdynia service from February until June 2005.[1] After completing her service with Stena Line she was sub-chartered again, to the Interislander[3]. Before leaving for New Zealand her name was shortened to Challenger,[1] with its Māori translation, Kaitaki, also appearing on its bow, being used for marketing purposes (the other two Interislander ferries, Arahura and Aratere have Māori names). In April 2007 the ship was officially renamed Kaitaki. [1]She is the only Interislander ferry without a rail deck for the transport of railway wagons.[4]
In 2009, it was announced that the initial five-year lease would be extended and that she would remain with the Interislander until 2013. [3]
Layout
Deck 10
Sun deck
Deck 9
Bridge
Deck 8
Passenger deck
Deck 7
Reception
Passenger deck
Deck 6
Crew accommodation
Deck 5
Upper vehicle deck
Commercial drivers accommodation
Crew accommodation
Deck 4
Crew accommodation
Deck 3
Main vehicle deck
Deck 2
Passenger deck
Deck 1
Engines
References
External links