HSC Express
From SpottingWorld, the Hub for the SpottingWorld network...

Express while deployed by P&O as Cherbourg Express
Career
Name:
Express
Catalonia 2000-2004
Portsmouth Express 2000-2000
Catalonia L 1999-2000
Catalonia 1998-1999
Owner:
Los Cipreses S.A.
Operator:
P&O Irish Sea 2005-present
P&O Portsmouth 2000-2005
Buquebus 1998-2000
Port of registry:
Template:BAH, Nassau, 2003-present
Template:URU, Montevideo, 2002-2003
Template:BAH, Nassau, 2000-2002
Template:ESP Las Palmas, 1998-2000
Route:
Larne — Troon & Cairnryan
Builder:
International Catamarans (Incat)
Hobart, Tasmania, Australia
Yard number:
047
Laid down:
12 May 1997
Launched:
17 January 1998
Completed:
1 May 1998
Identification:
Call sign: C6FQ4
DNV ID: 20078
IMO number: 9176046
MMSI no.: 311074000
Status:
Operational
Notes:
[1]
General characteristics
Class and type:
Det Norske Veritas 1A1 HSLC R1 Car Ferry A E0
Tonnage:
5,902 GT; 2,441  NT; 450 DWT
Length:
91 m (299 ft)
Beam:
26 m (85 ft)
Draught:
3.7 m (12 ft)
Installed power:
4 x Caterpillar Inc. model 3618 marine diesel engines
Propulsion:
4 x Lips LJ145D waterjet
Speed:
40 knots
Capacity:
900 passengers
220 vehicles
Notes:
[1]
Express is a 91-metre (299 ft) wave piercing catamaran built by International Catamarans (Incat), and operated by P&O Irish Sea between Northern Ireland and Scotland. During her delivery voyage on 9 June 1998, she set the record for the fastest Atlantic Eastbound Record, previously held by another Incat craft Hoverspeed Great Britain, making the 3,125 mi (5,029 km) run from Manhattan to Tarifa, Spain in 3 days 7 hours 54 minutes, traveling at an average speed of 38.877 kn (72.000 km/h; 44.739 mph).
During that same voyage, the ship became the first passenger ship to cover 1,000 mi (1,600 km) or more in one 24-hour period. In covering 1,018 nautical miles (1,885 km) in one day, beating the 868 mi (1,397 km). record set by SS United States in 1952. Six weeks later, sister craft HSC Fjord Cat took the record.[2]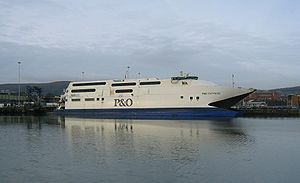 Mediteranean service
Following her record breaking Atlantic Ocean crossing the vessel changed name to Catalonia L and entered service with Buquebus between Barcelona and Palma, Majorca and later between Ceuta, Malaga and Algeciras.
English Channel service
In 1999 she was chartered to P&O Portsmouth for service between Portsmouth and Cherbourg replacing the smaller Superstar Express and adopted the trading name Portsmouth Express though her official name remained Catalonia. Her first season as Portsmouth Express was marred by a series of serious technical problems which at one point resulted in the Superstar Express returning to the route from P&O Irish Sea. The ship operated with P&O Portsmouth during the 2000, 2001 and 2002 summer seasons and returned to Buquebus for the rest of the year, in each summer season on the Cherbourg route the ship experienced a number of technical problems which often resulted in the ship running on three or less of its four engines. In 2002 the ships marketing name became Express after P&O Portsmouth became part of P&O Ferries. In 2004 the ship was officially renamed Express but her marketing name became Cherbourg Express to differentiate the service from Caen Express which P&O started that year. In September 2004 the ship completed her final Portsmouth-Cherbourg sailing and the ship was laid up at A&P Birkenhead.
Irish Sea service
In 2005 her charter was transferred to P&O Irish Sea and the ship once again replaced Superstar Express.[3] Express remains with P&O Irish Sea on the route between Troon/Cairnryan, Scotland and Larne, Northern Ireland. In 2010 she began operating sailings from Larne to Douglas on behalf of the Isle of Man Steam Packet Company for the TT Pro League season. Leaving Larne at 23:59 - arrive Douglas 2:44, Leave Douglas - 03:00 - Arrive Larne - 05:45. By doing this they have fitted it in around the normal timetable on the Larne - Cairnryan and Larne - Troon Routes.[4][5]
Sister ships
Express is one of four 91-metre wave piercing catamarans built by Incat but differs from the other three because of her addition lounge and large scenic window over the stern.
Sister ships
References
External links
Ferries of the Irish Sea

Current ships

Ferry Ports