Dee Why ferry
From SpottingWorld, the Hub for the SpottingWorld network...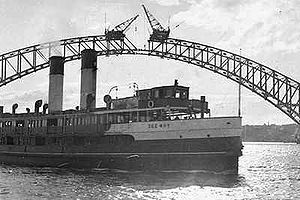 The Dee Why class ferries, Dee Why and Curl Curl, (named after popular beaches in Sydney's northern suburbs), were, from 1928 until 1938, the largest and fastest ferries on Sydney Harbour, being used on the popular Circular Quay–Manly route.
Construction
The Dee Why and Curl Curl, were built for the Port Jackson and Manly Steamship Company (PJ & MS Co.) by Napier and Miller, the famous Scottish shipbuilders, at Old Kilpatrick, Glasgow, Scotland. They were of a design by naval architect E.H. Mitchell. Mitchell was given the basic specifications by W.L. Dendy, then the General Manager of the PJ & MS Co.
In keeping with all other Manly ferries of the time, they were of steel construction, but with a wooden superstructure, and were double-ended. Each was 220 feet long, 35 feet 11 inches broad, and drawing 12 feet six inches of water when fully laden. Each displaced 799.5 tons of water. They were the second-last steam powered ferries built for the PJ & MS Co., possessing triple-expansion steam engines manufactured by David and William Henderson and Co., of Glasgow, producing 3,200 horsepower, enough to propel the Curl Curl through the water at over 18 knots. For some inexplicable reason, the Dee Why was never quite as fast as her sister ship. Both ships exceeded 17.5 knots on their trials. Steam for the engines was provided by four single-ended cylindrical Scotch boilers, placed in pairs back to back in two stokeholds, and fitted for burning either oil or coal. This arrangement necessitated the use of two funnels, which, because of the arrangement of the boilers, had to be placed slightly for'ard of amidships, resulting in a strangely asymmetrical appearance. Each boiler was 11 feet six inches long, and 12 feet wide. The propellers were of solid bronze with four blades, being nine feet three inches in diameter. Each ship had a passenger capacity of 1,500.
It is interesting to note that SS South Steyne, the next ferry built for the P.J. & M.S.Co. was of very similar dimensions and machinery, yet displaced two-hundred tons more. This discrepancy is because the Dee Why and Curl Curl had sliding doors fitted to their promenade decks, instead of swinging doors like those on the South Steyne. Spaces enclosed by sliding doors at the time were classed under British rules as having no tonnage-earning purpose, and so the two-hundred tons this space would have earned was deducted from the displacement of the vessel.
The Dee Why and the Curl Curl were the first Manly ferries since the 1883 paddlewheeler Brighton to be built in Britain rather than Australia, and were launched on 23 December 1927, and 27 February 1928, respectively. They were fitted out in the United Kingdom, and sailed under their own power to Australia, via the Suez Canal.
Arrival and operations in Sydney
Due to a delay in the arrival of her engines, the Dee Why was second to arrive, despite her being first launched. She arrived in Sydney at 2.00am on 1 November 1928, and the Curl Curl, slightly before her on 25 October in the same year. After some initial modification, both ships entered service immediately, and proved most popular with the traveling public. They were not only bigger and faster that preceding ferries – the Bingarra, Burra-Bra, Baragoola and Barrenjoey – but also better sea boats and better appointed, with reversible upholstered seating replacing the hard wooden benches of the older but otherwise similar ferries. Both ships proved easy to handle and built up good safety records over the years.
The first to have an accident was the Curl Curl, when, on 29 April 1929, she ran down a passenger launch named Nimrod, which sank because of the collision. None of the 20 people on board were hurt. The Curl Curl again caused an accident a year later on 29 April 1930, when she and another ferry, the Kiandra, collided in almost the same spot. The Curl Curl, being constructed of steel, caused grievous damage to the wooden Kiandra, and it was only by prompt action by emergency crews that she avoided sinking. Several people were injured.
On an unknown day in November 1931, the Dee Why had her first accident when she, being large and ungainly, could not stop in time before she rammed another wooden ferry, the Kirrule. The Dee Why's captain as seen to be at fault and his certificate was suspended. The Curl Curl again made the news in February 1932 when she failed to stop in time at the Manly wharf and ploughed into the footpath. On Christmas Day, 1942, the Dee Why ran aground in fog, and remained stuck for several hours while the wharfingers at Manly were wondering where she had got to – in those days there was no radio on board – and was nearly eight hours late when she was towed off after the fog had lifted and people realised what happened.
Apart from these accidents, both units of the class did nothing to get themselves into the newspapers, and no lives were lost because of either of these two ships, though several people fell overboard and drowned and many were injured by broken glass and other debris on the several occasions the Dee Why or Curl Curl were swamped by the enormous waves that whip through Sydney Heads in rough weather.
Rival
For over ten years these two sister ships ruled the harbour. They were big, fast, comfortable and stately. However, in 1938 a 'better' ferry stole the spotlight. It was SS South Steyne, mentioned above, also built in Scotland, and very slightly larger than the two older sisters. All of a sudden everything that was wrong with the appearance of the two older ferries became shockingly apparent when viewed next to this new ship. Dee Why and her sister had straight (i.e. vertical) stems, and their decks did not rise at the ends like on the South Steyne. Their funnels appeared too tall and thin when compared to the new ship.
Despite this sudden downfall, the two older ships continued to bowl up and down the harbour, and despite the South Steyne being billed as the world's largest and fastest ferry, these two older ships were comparable in every respect except passenger capacity.
Demise
Just before the Second World War, the P.J. & M.S.Co. found that using coal tar as fuel was much cheaper than bunker oil. The P.J. & M.S.Co. obtained its coal tar from the North Shore Gas Company, which had nothing else to do with it. At the time it cost twopence a gallon, and the three big steamers of the fleet – Dee Why, Curl Curl and SS South Steyne – were all converted to burn coal tar instead of oil. However, soon other users found that coal tar was useful, and to remain competitive, the North Shore gas Company upped its prices to an unmanageable rate, and so the three steamers were reconverted to oil. It was the price of oil that led to their demise.
By the mid 1950s, these two ships were beginning to age. Though still in front line use, the advantages of diesel propulsion over steam had become apparent when another Manly ferry - Bellubera - was converted to diesel propulsion in the late 1930s. When boiler oil fuel was available cheaply, diesel propulsion possessed no real advantage, cost-wise, but after World War Two, with falling patronage, the P.J. & M.S.Co. had to cut costs somehow. They did so by using the steamers left in the fleet less and less, and for the first time, in 1952, diesel vessels did more runs than steamers. The idea of converting Dee Why and Curl Curl to diesel was shelved quickly when it was realised the costs would be prohibitive, but throughout the 1950s, these two old steamers, along with the SS South Steyne, were still used, albeit less and less.
In 1960, almost in debt and with nothing left to do but axe steam propulsion, the P.J. & M.S.Co. decided to decommission the Curl Curl, which occurred on 25 October 1960. She was moored at the Balmain depot, awaiting a decision on her fate. The problem of her next use solved itself when, in 1962 she began popping rivets and leaking, and so she was sold to Strides & Co, shipbreakers. They, on a cold August day in 1969, towed the stripped hulk out of the harbour, where she was scuttled.
The Dee Why continued to forlornly plod the harbour alone until 1968, when she too was decommissioned and sold to Strides, who stripped her and left her bare hull lying around for a few years. She was finally towed out of the harbour on 25 August 1976, by the tugs Rozelle and Fern Bay, to a point two-and-a-half nautical miles offshore. There her sea-cocks were opened at 9.15am. She filled with water quietly for three quarters of an hour, suddenly diving bow first at 10.00am. Her remains lie in water 51 metres deep at 33°41′S 151°20′E / 33.683°S 151.333°E / -33.683; 151.333, and now form an artificial fishing reef. Divers regularly dive the wreck.
External links