RMS Viceroy of India
From SpottingWorld, the Hub for the SpottingWorld network...
Career
Name:
RMS Viceroy of India
Owner:
The Peninsular and Oriental Steam Navigation Company Ltd. (P & O)
Port of registry:
Great Britain
Route:
London - Bombay and cruising
Builder:
Alexander Stephen & Sons of Glasgow
Yard number:
519
Laid down:
April 1927
Launched:
15 September 1928
Christened:
By Dorothy, Countess of Halifax, the wife of the Viceroy of India E. F. L. Wood, 1st Earl of Halifax
Maiden voyage:
7 March 1929
Homeport:
Glasgow
Identification:

Official Number: 160238
Signal letters: LCTV
Call sign: GLVX

Fate:
Sank by German U-boat U-407 November 1942.
General characteristics
Class and type:
Ocean liner
Tonnage:

19,648 gross tons
10,069 net tons
9,180 tons deadweight

Length:
586.1 feet
612.3 feet overall
Beam:
76.2 feet
Draught:
28.3 feet
Depth:
41.5 feet
Decks:
5
Installed power:

BOILERS:

6 water tube, 400lb steam pressure. Steam pressure 700 degrees, super heated F.D. Oil Fuel.

ENGINES :

Builders: Alexander Stephen and Sons Ltd
Two steam turbo-generators, each 900 kW., 2,690/3,110 r.p.m. 3 phase 2,720 volts
2 electrical shaft motors on propeller shaft, each 8,500 shaft horse power., 109 r.p.m. 3 phase, 3,150 volts.
At reduced powers of 11,600 shaft horse power and under, only one turbo-generator was required for supplying power to both motors, thus maximum fuel economy is obtained. Variation of propeller speed in either direction is achieved by changing the turbine speed.
19,000 shaft horse power by British Thompson-Houston Co. Ltd. Rugby, Warwickshire

Propulsion:
Twin screw
Speed:
19 propeller
Capacity:

Passengers:

415 1st class passengers
258 2nd class passengers

Cargo:

217,752 cubic feet (6,165 cubic metres)

Crew:

413 crewmembers total:

14 officers
19 petty officers
59 seamen
18 engineers
53 firemen
248 pursers and stewards
1 surgeon and 1 assistant

Notes:

Paintwork:

Hull black with white band
red boot-topping
upper works stone
funnels black.
The RMS Viceroy of India was an ocean liner that was owned and operated by the Peninsular and Oriental Steam Navigation Company Ltd. of Great Britain.
A Royal Mail Ship, thus permitted to use the prefix "RMS", she was named in honour of the Viceroy of India. During World War II she was converted to and used as a troopship. The Viceroy of India was sunk in November 1942 by German U-boat U-407. Her service was succeeded by SS Chusan from 1950 to 1978.
Design and construction
RMS Viceroy of India was laid down in April 1927 at the shipyard of Alexander Stephen & Sons in Glasgow. Originally ordered under the name Taj Mahal, she was designed for the prestigious Bombay service of the Peninsular and Oriental Steam Navigation Company (P & O). and was only the third vessel in the world at that time to have revolutionary turbo-electric machinery.
The accommodation aboard was regarded as luxurious by the standards of the time. The first class staterooms were especially sumptuous, although standards were high in all classes on this ship. All cabins were single berth with interconnecting doors, with extra rooms for servants who often travelled with colonial families.
Much of the interior decoration was designed by the Honourable Elsie Mackay, the daughter of James Mackay, 1st Earl of Inchcape, who was the chairman of P & O from 1914 until his death in 1932.
Launch and commissioning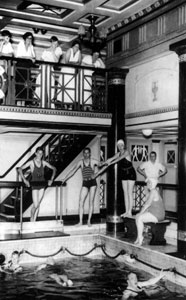 Appropriately RMS Viceroy of India was launched on 15 September 1928 by Dorothy, Countess of Halifax, the wife of the Viceroy of India, E. F. L. Wood, 1st Earl of Halifax. The name had been changed from Taj Mahal to avoid offending Indians, particularly Muslims, who regard the Taj Mahal as a sacred mausoleum.
Fitting out commenced at Shieldhall Wharf, Glasgow, but unfortunately on 8 January 1929 she was damaged amidships by the 7,131 tons Donaldson Lines cargo ship Corinaldo which was attempting to dock in poor visibility. However, by 17 February she was ready for her sea trials, during which she averaged 19.6 knots.
Service history
The Viceroy of India was delivered to P & O on 7 March and made her maiden voyage on the Indian Mail service. However, the beautifully appointed liner was ideal for the leisure cruise market, particularly with the unusual amenity of an indoor swimming pool, and therefore was used as a cruise ship every year until the outbreak of the Second World War.
In February 1939 as part of a cruise of the South Atlantic she was the first P & O liner to call at the island of Tristan da Cunha.
But without doubt her finest achievement was in September 1932 when she recorded a new record time between London and Bombay of 17 days, 1 hour and 42 minutes.
Viceroy of India was in service for little more than fourteen years from launching to destruction, but in that period she figured in many significant maritime incidents.
On 23 November 1929 she rescued 25 crew members from the Italian steamer Maria Luisa which was sinking in the eastern Mediterranean.
In September 1930 she was on standby when the crew of the Greek cargo ship Theodoros Bulgararis had to be transferred to another vessel after its cargo of grain shifted in storms in the Bay of Biscay.
Incredibly, less than three months later, on 31 December 1930, the Viceroy of India was again called to the aid of the Theodoros Bulgararis in the Bay of Biscay, and rescued all of the crew. On this occasion the Greek vessel was lost.
On 5 September 1935 the Viceroy of India rescued 241 passengers from the Cunard White Star liner Doric after her collision with the French steamer Formigny off Cape Finisterre.
On 11 August 1940 279 passengers were rescued from another Cunard White Star liner, Ceramic, after her collision with the cargo liner Testbank approaching Cape Town.
Sinking
In November 1940 the Viceroy of India returned to the River Clyde for conversion to a troopship.
Exactly two years later, while returning from Algiers during the North Africa campaign she encountered the German U-boat U-407 approximately 30 miles north of Oran. The Viceroy of India was torpedoed and sunk. Four crew members were lost out of a total of 432 crew and 22 passengers. The survivors were picked up by the Royal Navy destroyer HMS Boadicea. Coordinates: 36°26′N 0°24′W / 36.433°N 0.4°W / 36.433; -0.4