SS Arcadia (1954)
From SpottingWorld, the Hub for the SpottingWorld network...
Career
Name:
SS Arcadia
Owner:
P&O
Port of registry:
London  United Kingdom
Route:
UK/Australia, and cruising
Builder:
John Brown & Company, Clydebank, Scotland
Cost:
£6,664,000
Yard number:
675
Laid down:
28 June 1951
Launched:
14 May 1953
Completed:
20 January 1954
Maiden voyage:
22 February 1954
Fate:
Scrapped at Kaohsiung, Taiwan, 30 April 1979.
General characteristics
Class and type:
Ocean liner
Tonnage:
29,734 GRT
Length:
721 feet 4 inches (219.9 m)
Beam:
90 feet 8 inches (27.6 m)
Draft:
31 feet (9.4 m)
Installed power:
6 impulse reaction geared steam turbines, 42,500 shp
Propulsion:
Two shafts/propellers
Speed:
22 knots
Capacity:

Cargo: 7,864 m3
Passengers:

1954: 670 1st class, 735 Tourist class

1973: 1,350 open class
Crew:
716
Notes: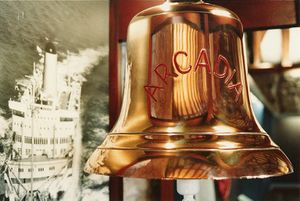 SS Arcadia was a passenger liner built for P&O in 1954 to service the UK to Australia route. Towards the end of her life she operated as a cruise ship, based in Sydney, until scrapped in 1979.
History
The Arcadia was built for P&O by John Brown & Company at Clydebank in Scotland; her keel was laid in 1952 and she was launched on 14 May 1953. Her maiden voyage commenced on 22 February 1954, sailing from the UK to Australia via the Suez Canal. As the number of passengers travelling by ship to Australia reduced due to the increase in aircraft travel, so P&O was forced to diversify with the deployment of its ships. In 1959, she was refitted (with amongst other things complete airconditioning) and commenced operations on the trans-Pacific route, and from 1965 was placed on part time cruising duties out of Sydney. In 1970 she became a full-time one-class cruiseship. From 1975 until scrapped in Taiwan in 1979, her cruising role out of Sydney was full time. She was replaced by P&O's then newly acquired Sea Princess, formerly the Kungsholm.
References
Encyclopedia Peninsular website viewed 10 July 2006
Home and Back - Australia's Golden Era of Passenger Ships, Stuart Bremer, Dreamweaver Books, 1984
Pictorial Encyclopedia of Ocean Liners, 1860-1994, William H. Miller, Dover Publications, 1995